Guest Artist Series Celebrates 10 Years with Concert
Published
Thursday, October 13, 2016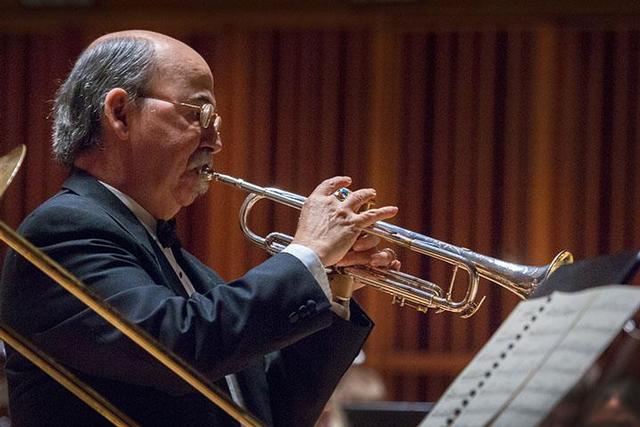 Larry McWilliams
The SMSU Jazz Ensemble will celebrate 10 years of its guest artist series with a concert on Saturday, Nov. 19 at 7:30 p.m. in the SMSU Fine Arts Theatre.
The guest artist will be trumpeter Larry McWilliams, who was the first guest artist back in 2007.
"The guest artist series started as a means of bringing professional musicians to our students so that they learn more about professional musicianship," said Director of Bands Dr. John Ginocchio.
"I think our guest artist series has been one of the most valuable things we've done in terms of helping our students improve as musicians. There is no substitute for our students than meeting with people who are actively performing and writing and conducting in professional capacities," he added.
McWilliams is a former professor of Ginocchio's at Ball State University. Now retired, he was a trumpet instructor and director of the jazz studies program.
McWilliams and Ginocchio will be at Minnesota State Community and Technical College in Fergus Falls for a clinic and concert with its Jazz Ensemble on Nov. 17. The two will conduct a clinic at Forest Lake High School on Nov. 21.
During the Nov. 19 concert at SMSU, several Jazz Ensemble alumni will be on hand to celebrate the anniversary of the guest artist series. "They'll play music we have done with guest artists in the past. They'll play pieces they played when they were here," said Ginocchio.
Past guest artists have included McWilliams, 2007; Mike Flack, 2008; Jim Snidero, 2009; Dennis Wilson, 2010; Matt Murdock, 2010; Rodney Whitaker, 2011; Michael Phillip Mossman, 2012; Antonia Hart, 2013; Bill Prince, 2014; Conrad Herwig, 2015; Mike Clark, 2016; and McWilliams, 2016.
The event is free and open to the public. It is sponsored by SMSU, and partially funded by SAFAC, with additional funding provided by US Bank.