Wilson Ebner Advocates for Teachers On Campus, and at National Level
Published Tuesday, October 18, 2016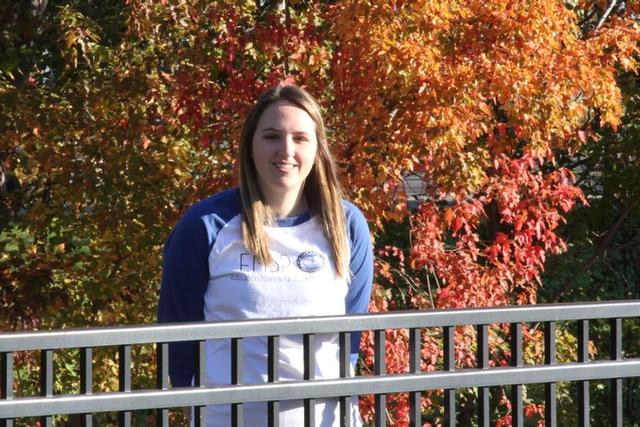 Wilson Ebner
SMSU senior Wilson Ebner is an advocate for future teachers on the SMSU campus, and on a national level, as well.
The Rosemount, Minn., native is majoring in Elementary Education, Special Education and English as a Second Language, with a reading minor. She's obviously a master at time management, because she's also the president of the SMSU chapter of the Education Minnesota Student Program, which is under the umbrella of the National Education Association (NEA). Additionally, last summer Ebner became a student representative on the national NEA board.
She ran in an election this past summer against five other students for her spot on the board. "The election was held in Washington, D.C., at the Student Leadership Conference. You have a speech and had to answer a random question. My election process lasted five rounds," she said.
The NEA is the largest teacher union in the country and serves all 50 states. It supports and protects the teachers in the country, and provides professional development opportunities, as well.
The national position does require travel. Recently she returned from a week in Washington, D.C. The NEA board meets four times per year, and she attends those meetings.
She selected SMSU "because of its amazing Education Department and I like the small community. It feels friendly and welcoming."
Ebner is also a member of the Sign Language Club and the Love Your Melon Club, a nationwide group which sells stocking hats to raise money for children with cancer. She is an Office of Admission Ambassador.
When she talks to prospective students, she gives this advice: "Make the most of your opportunities. Get involved right away."
Ebner has been instrumental in organizing the "Teach Like a Pirate" event at SMSU on Oct. 22. It features a number of breakout sessions, with nationally-known speaker Dave Burgess giving the keynote address. "He was so much fun, so inspiring in the classroom, that someone told him he should write a book. He did, and he's become one of the most popular speakers on the topic of education in the country," she said.
Ebner is the daughter of Robin and Doug Ebner. She has two younger brothers, Wyatt and Weston. She will student teach in the fall semester, 2017, and then look for a job.
"My term on the NEA board runs one year, so it will be over in June. That will allow me to do my student teaching," she said.
Time is a precious commodity for this triple major, who squeezes the most out of every minute of the day. She is a wonderful example of a student who dives in, becomes involved, and follows her passions.
Related Articles