Redfield, Andries Speak to SMSU Students
Published Monday, October 31, 2016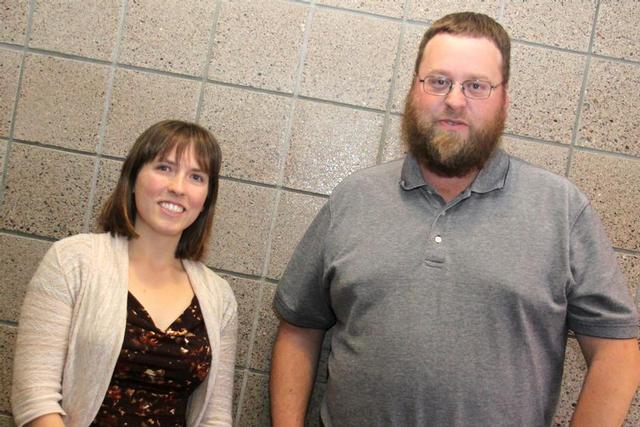 On the left is Jennifer (Schefers) Andries and Trent Redfield on the right
The Mustang Speaker Series continued recently with alumni Trent Redfield and Jennifer Andries addressing the SMSU History Club. They spoke about their personal experiences as well as career opportunities in history, and encouraged students to think outside the box in their job search.
Alumnus Trent Redfield graduated in 2000 with history and philosophy degrees, and was the first to obtain a minor in what is now known as Indigenous Nations and Dakota Studies from SMSU. Redfield was also part of the Honors Program. His love of history has since taken him to places as diverse as the Apostle Islands in Lake Superior to Devil's Tower in Wyoming.
Redfield said his biggest honor was participating in a special unit created for the bicentennial of the Lewis and Clark Expedition, celebrated 2003-2006. The "Corps of Discovery II" was created to travel Lewis and Clark's trail as closely as possible and share the history along the way.
Redfield participated during the final two years of the four-year expedition. "We would set up a huge tent at each stop, and invite different people to come in and do historical interpretation," he said. "We told the stories of history in the places where they happened."
He is now coordinator of the Education and Volunteer Programs at the Grizzly and Wolf Discovery Center in West Yellowstone, Montana, as well as a historian at the Yellowstone Historic Center during the summer.
Along with his historical work, Redfield is currently a trainer for the National Association for Interpretation, the national organization for park rangers and related career fields. Recently he was honored with the "Master Frontline Interpreter Award" through the organization. Redfield has also written for the organizational publication, including a recent article about Native American naming practices.
His advice to students interested in the public history career field is to start early. "Find internships, volunteer, and look for local opportunities," he said. "Public history is a good choice if you're looking for a career in history that takes you out of the classroom setting."
"Don't just be a history major," Redfield said. "Broaden your horizons, learn foreign languages and writing skills. That liberal arts background will set you apart in the job search." He credited his Philosophy degree with helping him see different viewpoints and understand how people form opinions.
Jennifer (Schefers) Andries, a 2008 alumna, is now the executive director of the Lyon County Historical Museum in Marshall, Minn. While earning her history degree at SMSU, she interned at the Redwood County Museum in Morton, Minn. Andries realized there that a history career could include museum work.
However, her path took a few turns after graduation before she began her position at the Lyon County Museum. She started working at JC Penney where she honed her skills in customer service. After completing her master's degree in Business Administration online through the Minnesota School of Business, she moved back to Marshall when she married Bradley Andries in 2011.
When the executive director position opened up at the Lyon County Historical Museum in 2012, Andries was in the right place at the right time, and with the right skills, to begin a new chapter in her career.
She enjoys the unique challenges her position presents on a daily basis. As executive director Andries wears many hats, from education coordinator to grant writer to curator. "Try to take in a variety of experiences," she told students, "because you never know how they all come together."
Andries is grateful for her history degree, but not simply because of the historical knowledge she gained. "Critical thinking, reasoning and writing skills apply to any field," she said.
Both alumni agreed it can take some time to find the perfect niche after graduation, and encouraged students to expand their horizons and add skills through diverse experiences both inside and outside the classroom.
SMSU alumni interested in participating in the Mustang Speaker Series may contact Michael Van Drehle, SMSU Director of Alumni, at 507-537-6257 or Michael.vandrehle@smsu.edu.
Related Articles