Published
Tuesday, November 22, 2016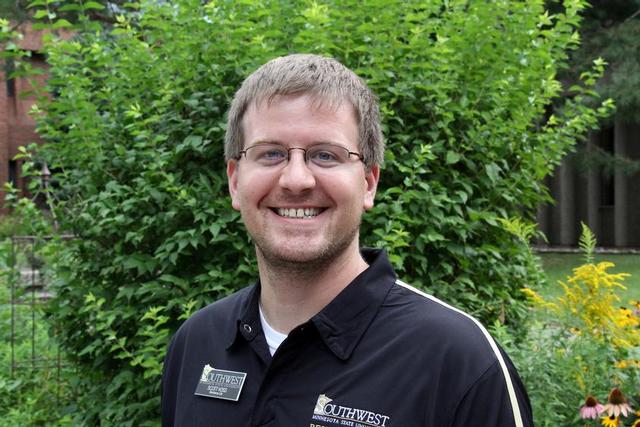 Southwest Minnesota State University's Residence Hall Association (RHA) was recently honored by the Midwest Affiliate of College and University Residence Halls (MACURH) for the Community Service Program and the Diversity Program of the Month in October 2016.
ResHALLoween received the Community Service Program of the Month distinction. This annual event is coordinated by RHA, and SMSU Resident Assistants (RAs) work with residents to decorate their halls and provide trick-or-treat activities for Marshall area families.
"Both Jess Bentley and I here in Residence Life are very appreciative of all the work the RHA executive board put into coordinating ResHALLoween," said Scott Voss, RHA advisor and Residential Life Coordinator. "We are also very grateful for the exceptional community response. I'm sure that played a big role in the judge's decision."
Voss also mentioned the help provided by Mike Neumann, a graduate assistant in the Residence Life office.
RAs Michael Dombrowski and Erin Kamann coordinated the "Proud to Be…" event that received the Diversity Program of the Month award. This week-long series of activities and presentations about diversity on campus focused on respect and tolerance for the LGBT+ community.
"It was a very well put-together event," said Voss. "Michael and Erin worked with the GLBTA Club on campus and off-campus organizations as well to put together events for the whole week."
Laura Garlow, the National Communications Coordinator for the SMSU RHA Chapter, nominated both programs for the awards.
Approximately 40 colleges and universities from seven states make up the Midwest region of MACURH. SMSU RHA has received five "Of the Month" awards in the past, but it has been close to 10 years since the last award.
SMSU was competing against much larger institutions such as Iowa State University, Kansas State University and the University of North Dakota.
"This is a testament to the quality student leaders we have on campus," said Voss. "It's good to see them get this recognition, they put in a lot of hard work to make these events come together."