Planetarium Christmas Shows at SMSU
Published
Tuesday, November 29, 2016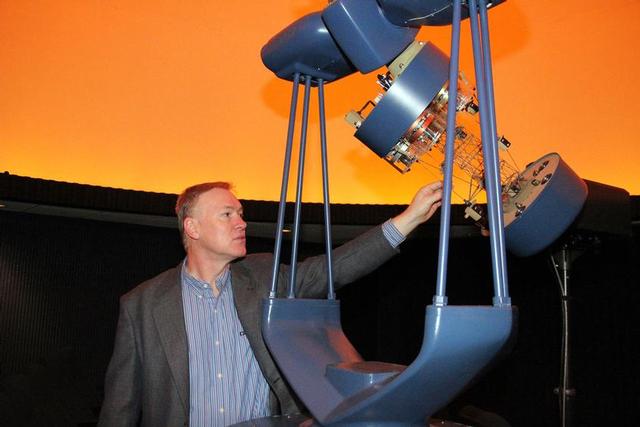 Planetarium
The Southwest Minnesota State University Planetarium Christmas and laser light show will be held on four upcoming dates this holiday season.
The show is entitled "Star of Wonder" and will be held Saturday, Dec. 10 at 7 p.m.; Saturday, Dec. 17, at 7 p.m.; Friday, Dec. 23 at 7 p.m.; and Saturday, Dec. 24 at 2 p.m.
The SMSU Planetarium is located in SM 108 on campus. It seats 70. Planetarium Director Dr. Ken Murphy said that if a show sells out, he will add another immediately following.
"Star of Wonder" was created by Murphy using digital software tools. He customized the show for the SMSU Planetarium.
"Star of Wonder" revolves around the Star of Bethlehem. Was it a planet, or maybe a supernova? Is there a scientific explanation for the star? In Murphy's show, the steps of the Magi are retraced in their 600-mile search for the Star of Bethlehem.
The show uses scientific data, religious history, imagery and traditional music to explore the mystery that has puzzled astronomers and theologians for centuries.
The show also explores how astronomers use historical records and scientific calculations to determine the time of Christ's birth, and shows how planets move and meet with stars and how calendars have changed through the ages.
A short segment will be added this year on the total solar eclipse that will take place August 21, 2017.
Also included in the show will be a trip around the universe using a program called Uniview. "It's a planetarium system that allows you to leave the earth and fly into space and explore the planets, stars and galaxies," said Murphy. A laser light show set to holiday music will also be featured.
Cost of the show is $5, and tickets will be sold at the door. Children sitting on laps are free. There will also be a CD available at the door including all the music from the Planetarium show for $15. 
For further information, call (507) 537-6173, or visit the website: www.smsu.edu/planetarium.