Minneota Pair Named to All-American Teams
Published
Friday, December 09, 2016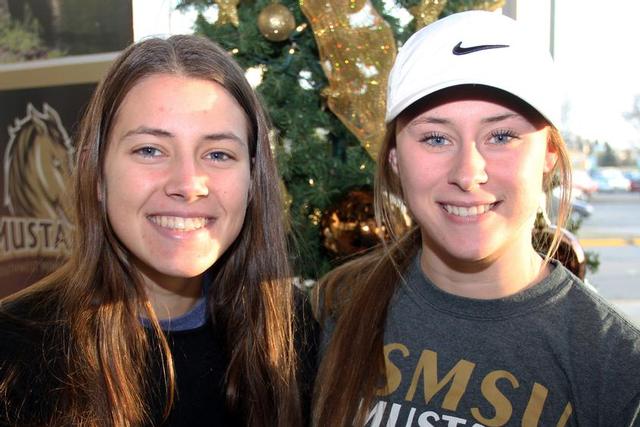 Megan Larson, left, and Taylor Reiss
Post-season accolades are nothing new to the SMSU Mustang volleyball program. The team's continued success under head coach Terry Culhane has resulted in numerous all-conference, all-region and all-American selections, not to mention many all-academic teams, too.
What are the odds, then, that Minneota High School (town population: 1,363) can produce two All-Americans in the same year?
Such is the case with Taylor Reiss, outside hitter, and Megan Larson, setter. Both were named to the All-Region team after the Mustangs finished second to Conordia-St. Paul. Earlier this week, Reiss was named to the first-team American Volleyball Coaches' Association All-American squad while Larson was named to the third team. Teammate Eisha Oden was named to the second team.
Also, Reiss was named to the Division II Conference Commissioners Association (CCA) All-American first-team, and Larson was named to the second team.
Reiss is a sophomore outside hitter from Taunton and attended Minneota High School. The daughter of Chad and Moriah Reiss, she was named the NSIC Player of the Year and posted the fourth-most kills (577) in single-season school history, and the third-most kills (35) in a match in school history.
Larson, a junior setter and the daughter of Steve and Carmen Larson, had the second-most assists (1,517) in school history this season. Her 12.86 assists per set is the second-most in SMSU history, and was the most in all of Division II this season. She is third in career assists (4,111) and third in career assists per set (10.99).
Both are exercise science majors. Reiss is looking to get into "physical or occupational therapy," she said, while Larson isn't quite sure what she'll do with her degree.
The team concept is important to both, who speak about the importance of chemistry that develops throughout a long season. "You learn a lot going through this program. It's not easy," said Reiss. "It pushes you, and if you go through four years here you learn life lessons that you can carry with you."
Larson's graduating class was 25 at Minneota, and she said that the team cares about one another, "and the coaching staff cares about you as a person. They push you to be a better player, and they push you off the court to be a better person."
"They are two high-level players," said Culhane, who throws compliments around like they're manhole covers. "Megan is a quit person; often I feel she is overlooked. She does things that our program values. She's very athletic, and has kind of come out of her shell this year. She's not afraid to try anything difficult, and it's nice to see her get some deserved recognition."
Culhane said Reiss "has been wonderful to work with. She's grown as a person, and has learned more about the game playing six rotations. As a freshman she was a middle, and she switched to the outside, which is harder to play. In a way she's still making that transition."
Reiss had originally committed to South Dakota State but after a coaching change there, had second thoughts and, after some anxious moments, enrolled at SMSU. She's happy about that decision, as are Mustang followers. "It didn't feel like where I wanted to be. SMSU feels like home."
The two played together three years in volleyball and basketball at Minneota, and appreciate the fans from their hometown who come to SMSU home games. "That's always nice, knowing people from your hometown come and support you," said Reiss.
They also were teammates on a Junior Olympic volleyball team that won the national championship three summers ago.
Larson said her transition to college ball was an eye-opener. "The competition was what I noticed. Every weekend you play competitive teams."
Reiss said the speed of the game is much faster. "In high school you can maybe get away with not being ready. Here, it's coming at you from every direction. The commitment level is high."
The Mustangs shared the NSIC regular-season title with Concordia-St. Paul and have become a national volleyball power, thanks in great part to a couple of athletes from a high school just down the road 12 miles.