President Gores, 3 Other Female Presidents Co-author Editorial in 'Chronicle'
Published Thursday, January 05, 2017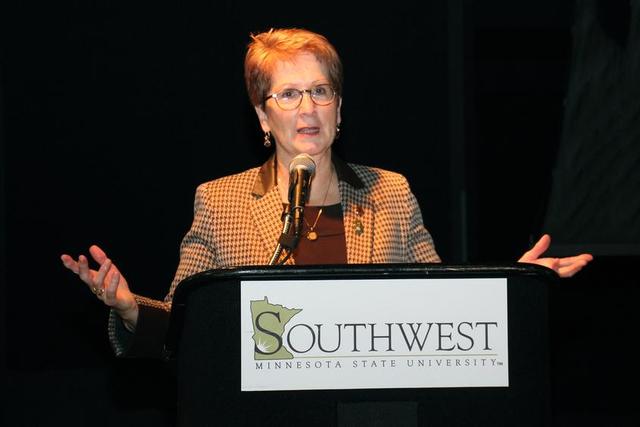 President Connie J. Gores
Southwest Minnesota State University President Dr. Connie J. Gores is one of four female college presidents who have co-authored an editorial in the latest edition of The Chronicle of Higher Education, the premier news source for college and university administrators.
The piece, entitled "The Benefits of Gender Balance in a System's Presidential Offices," was authored by President Gores, Normandale Community College President Joyce Ester, Minnesota State University Moorhead President Anne Blackhurst and North Hennepin Community College President Barbara McDonald. These four were all elected by their peers — presidents of Minnesota State colleges and universities — to serve on the executive committee of the Minnesota State Leadership Council, a body consisting of all the campus presidents and the chancellor's cabinet. That is the first time all four members of the Leadership Council have been women.
The editorial says that while women make up only about 26 percent of all college and university presidents, that the Minnesota State system is doing much better — 14 out of 30 institutions have female presidents.
It goes on to praise the Minnesota State system for making similar strides in diversifying the racial makeup of its presidents, too. Thirty-three percent are members of a racial or ethnic minority group.
That progress, the authors maintain, is the result of an organizational commitment to equity and inclusion that serves as the foundation for a strategy to develop, recruit and retain diverse leaders in an effort to serve the nearly 400,000 students in the Minnesota State system. Those efforts include leadership development, recruitment, mentoring, onboarding and coaching.
How the four have inspired other women was also singled out. "But the benefit of more women in leadership roles that we find the most exciting, from a personal point of view, is how we are inspiring other women of all ages," reads the article. "Young women ask us questions about what it takes to be a leader, what we find most challenging, and how we got to the place we are. These are questions most people don't consider asking white male leaders. We also have been told by older women that we embody their aspirations for their children and their grandchildren."
The article concludes, "And isn't that what we're really all trying to do? Inspire our students to dream beyond the future they thought they had, no matter who they are or where they come from? When our places of higher learning truly reflect the diversity of our students, they can more effectively imagine and realize their potential."
The editorial appeared in the Jan. 6 issue of The Chronicle of Higher Education. It can be found here: www.chronicle.com/article/The-Benefits-of-Gender-Balance/238778
Related Articles