Dallin Finley Has Made an Impact at SMSU
Published
Thursday, January 12, 2017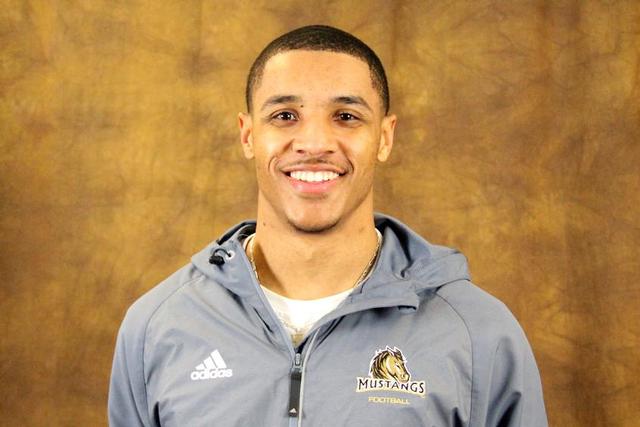 Dallin Finley
SMSU senior Dallin Finley recently received a $500 Mark M. Welter World Citizen Award through the Minnesota State system. He was one of just 20 students in the Minnesota State system to receive the award, which is given to students in good academic standing who have demonstrated a keen awareness of our interconnected world.
Students chosen to receive the award show an understanding that "all people — all cultures, all creeds, all colors, and all countries — have been 'depositors and withdrawers at the world bank of knowledge.'"
Finley was nominated for the award through his leadership on campus and as an athlete. "I don't know how it came about really, I just got a text from coach Christian Guenther telling me I had received it," he said. "I'm very grateful to whoever submitted the nomination."
Finley is originally from Kennesaw, Ga., and was a captain on the Mustang football team this past season. He is also on the track and field team, and holds the school record for the 200-meter indoor race.
The senior psychology major has become a leader in many areas on campus. He serves as student senator, president of the Black Student Union, and a member of the SMSU Diversity and Inclusion Committee. As president of the Black Student Union, Finley coordinated a canned food drive in Marshall that raised over 300 pounds of canned goods and non-perishable items for the food shelf.
Finley works closely with Office of Diversity and Inclusion Director Jefferson Lee as a mentor and student employee to help SMSU become more inclusive of others with different backgrounds, both on campus and in the community. "I think it's important to expose people to different backgrounds, to break down different barriers people have," he said.
Finley was also happy to be invited to take part in the Diversity book club that meets at SMSU the third Monday of each month. He appreciates the opportunity to share his perspective on how to implement an inclusive culture at SMSU.
 "For me, personally, SMSU has become a second home away from home," Finley said. "The people here made me and my family feel comfortable when I visited. That reassured me I'd be just fine this far away from home, and it was a smooth transition."
Finley hopes to further his football career after graduation, and if that doesn't work out he will return to Georgia for graduate school in psychology, with an emphasis in sports performance.
The Mark M. Welter World Citizen Award exists to provide an annual tribute to Minnesota State students who most exemplify the thoughts, words, and actions demanded by a 21st century world citizen.
Congratulations, Dallin Finley, we are proud to have you as part of the Mustang Family!