Course Connects Students With Community Members
Published Friday, January 20, 2017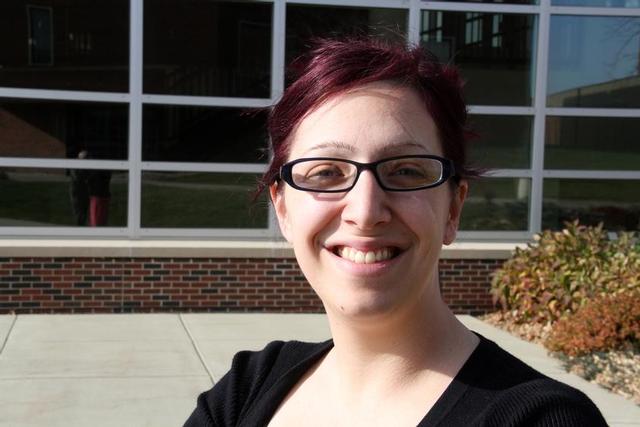 Julie Walker
A new Storytelling in Modern Communication class connected SMSU students with community members in unique and meaningful ways during the fall semester. Assistant Professor of Communication Studies Julie Walker had her students work with two community organizations during the semester.
SMSU students were teamed with Advance Opportunity adults for two projects. Advance Opportunities is an agency that connects adults with developmental disabilities with employers in Marshall and the surrounding communities.
The first project's goal was for students to assist adults in creating "kernel stories," or, as she explains, "a short story, similar to an elevator pitch, framed so it can be delivered in different ways for different audiences." The students presented kernel stories focusing on self-promotion or organizational-advocacy to the adults at Advance Opportunities, then the students sat down and worked on-on-one to share how to mine for and create stories with purpose with the adults. "Being able to tell the same story for different purposes is a really useful skill," Walker shared.
The goal, Walker said, was to help Advance Opportunities clients "market themselves better in the community. It comes down to self-advocacy. We want them to be able to say 'I have great work history, I am a good fit for the job, and yes, I have this thing I'm dealing with but I have so many strengths.' We want them to increase their likelihood of being hired."
Recent graduate Rebecca Klehr reflected on her experiences: "When I was preparing my two kernel stories, I was absolutely nervous and didn't know what stories I should prepare or how I was going to tell these kernel stories to the audience. But it was such an amazing and life-changing experience for me. Just to be able to talk with an individual for less than an hour and interact with her, it was so amazing to hear her story. That one interaction got me thinking about my career choices and how much I want to help people. I didn't realize how important storytelling was until then. I'm so grateful to get to go there. It's one of the best things I've ever done in my entire life. It's an experience that I will never forget."
A second part of that assignment asked students to create short audio or video promotional material for Advance Opportunities based on stories shared by the adults they serve. Small groups of students were partnered with a client for a one-on-one interview about their experiences interacting with the organization. "I wanted students to get the chance to work through how to use storytelling in a PR setting," said Walker.
Sophomore Grant Kleinman reflected on his experiences: "I can definitely see myself using these skills again not just in other classes, but in life, because they are very transferable. This project was a great way to close out the semester because it not only forced us to think outside the box, but it also cemented what we have been learning since August — that storytelling is an incredibly important tool in every area of our lives."
The second collaboration taught SMSU students about language barriers, narratives, and interviewing skills. The students worked with Literacy Volunteers, a local group that helps new populations learn English.
Students listened to a new population member tell a story, first in their native language. They then told the same story in their second language, English. SMSU students discussed the types of differences between the two versions.
 "Hopefully the SMSU students saw what is missed by being able to speak only one language, and were able to see that just because someone doesn't speak English, that doesn't mean the individual doesn't have incredible experiences to offer," said Walker.
By hearing the story in a different language, then hearing it spoken in English, Walker wanted her students to compare the two versions. "I wanted them to understand the richness of the story, the culture. It's not's not a critique of the storyteller's English, but to show how much they have to give to this community and how much they bring with them. It's easy to put someone in a box when you don't understand the language."
Working with Literary Volunteer clients can help students learn a lot about their "culture, background and values versus the culture they've grown up with," said Walker.
She said the project allowed her students to "be able to understand other cultures in a more real way. Stories change the way you feel about things. Listening helps you understand someone's culture, their values, more than anything else can. It helps you make more sense of your own life, in a different sort of way."
Liam Lopez, a sophomore, reflected on his experiences: "Each story felt like a chapter in life that many people have been through in some way, through different forms of struggle, motivation, and achievement. I really cherished these stories and the way that they were presented to us so uniquely. I was really trying to understand what the speakers were feeling while speaking in their native language, but it was tough for me, to be honest. The actual words were nothing like I had expected, but that's what made the experience so special, to be honest. Learning about the different ways that cultures tell stories, and express emotion to their audiences was a great experience.
Candace Thomas, executive director of Literacy Volunteers, said the learners had a good experience working with the students, noting storytellers "felt like their culture and their stories were respected by the students. Listening to and valuing others' stories is an important way to welcome people new to any community."
Walker is on the Literacy Volunteers board. She said Literacy Volunteers routinely "work with individuals — Hispanic, Hmong, Karen, Somali — a host of different nationalities with different first languages in Marshall and the surrounding areas to help them achieve their literacy goals."
Walker is a believer in the civic engagement aspect of learning and these two collaborations are good examples of SMSU students going outside the classroom to engage in projects that, though they are part of their coursework, benefit other people in the process.
The Storytelling in Modern Communication class was a first-time offering at SMSU. "It's part of the curriculum redesign being done to make sure we're on the cutting edge of research and the application of communication theory in the U.S.," said Walker.
Related Articles