MustangsVolunteer Matches Regional Needs with Volunteers
Published
Saturday, January 28, 2017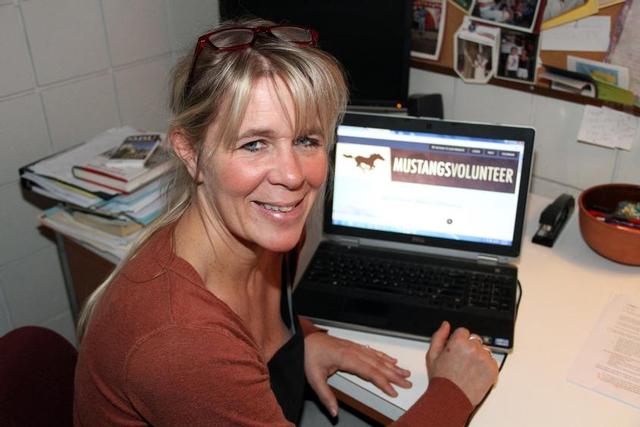 Dr. Christine Olson
A collaborative effort between Southwest Minnesota State University and United Way of Southwest Minnesota is making it easier for the SMSU community to find volunteer opportunities within the region. 
Called MustangsVolunteer, it is a website that connects prospective volunteers with local service opportunities that match their interests, abilities and availability. 
Users can search a database of needs that have been posted by both SMSU based groups (for example, student clubs) and a growing number of community agencies. The site also allows students, faculty and staff to find the specific types of volunteer opportunities that interest them. 
"It's a service site database," said Dr. Christine Olson, Professor of Psychology and, along with psychology professor Dr. Scott Peterson, a coordinator of the Center for Civic Engagement on campus. Both have been working over a year with United Way of Southwest Minnesota and several support staff members at SMSU to get the joint effort launched. 
"About two years ago, United Way launched the platform that supports their service site database. It's called 'Get Connected,'" said Olson. "They have 60+ agencies right now that make up their site database, including area non-profits, schools and other community engagement related entities," she added. "Our site at SMSU will now be synced--directly connected -- to their service database." 
"Students, faculty, and staff on campus may now go to the Center for Civic Engagement MustangsVolunteer link on our SMSU website, create a login and select specific needs that they would like to address. This may take the form of volunteering on an ongoing basis or attending a one-time event, such as a fund raiser " she said. "The system will then push that information out. For example, if you indicate you are interested in addressing hunger in this region, you will be notified of, say, volunteer opportunities at Ruby's Pantry, along with learning in an ongoing way about any other service opportunities that relate to addressing the problem of hunger in Southwestern MN." 
One other nice feature of the site, said Olson, is its ability to keep track of volunteer hours, both individually and in a comprehensive way. "Individually, students' service hours are verified and they are able to keep an ongoing record of both the type and amount of service done. That is helpful with regard to enhancing their resumes, pulling together graduate school applications, and helping them to prepare for job interviews," she said. "We especially like that we will be able to track, in a collective way, the extent to which our campus members have helped to address area needs, such as hunger, literacy, new immigrant family concerns, and so on," she added. 
The Center for Civic Engagement had a fulltime staff person from 2004-2009, through a VISTA grant. "We maxed out on that funding, though," said Olson. "The need is still there for staffing. That's why this new platform is an especially valuable resource. It provides campus members with a much more efficient means of becoming aware of service and other community engagement opportunities on campus and in area communities." 
Having made available this MustangsVolunteer resource is one of several ways in which the university's commitment to civic engagement is evident. Other changes made over the past several years at SMSU include making civic engagement central to the SMSU Mission, revising the Liberal Education Core (LEC) to include fostering in students a commitment to becoming "engaged citizens in their local and global communities" as one of seven learning outcomes, and, having identified "meaningful partnerships and 
engagement" as one of three primary directions in recent strategic planning processes," Olson said. 
"Having set up this MustangsVolunteer platform is directly responsive to a long standing need for having a more efficient means of communicating about service and community engagement opportunities. Marshall area community members and SMSU campus members made clear in recent strategic planning gatherings their interest in having a resource like this. So, we feel good about having responded to this expressed need. Again, by having the MustangsVolunteer platform, we are better able to learn about area needs by accessing United Way's Get Connected database. It is also good for the campus community because it will allow student groups who, for instance, want to start a coat drive, to initiate this and seek volunteers as well." 
United Way of Southwest Minnesota invested in the software initially, and there's a fee for SMSU to partner with the GetConnected system. "An annual subscription fee of $1500 is needed to maintain this, and we are very pleased that the SMSU student government enthusiastically supported use of funds generated by the Student Technology Fee for this purpose," she said. 
Civic engagement is a term well known across the campus of SMSU and MustangsVolunteer is an opportunity for the Mustang community to explore volunteer opportunities within the region, on a centralized site. "United Way of Southwest Minnesota already has over 265 community volunteers who have gone onto their site and set up login accounts," said Olson. "It would be great if we could help double, or triple that." 
Campus members interested in signing up for MustangsVolunteer may do so through the Center for Civic Engagement website: smsu.edu/campuslife/civicengagement/, and community members may continue to log in through the United Way of Southwest Minnesota website: unitedwayswmn.org, with both systems now linked.