SMSU Alumnus Ajeet Yadav is 2016-17 Policy Fellow
Published Thursday, February 23, 2017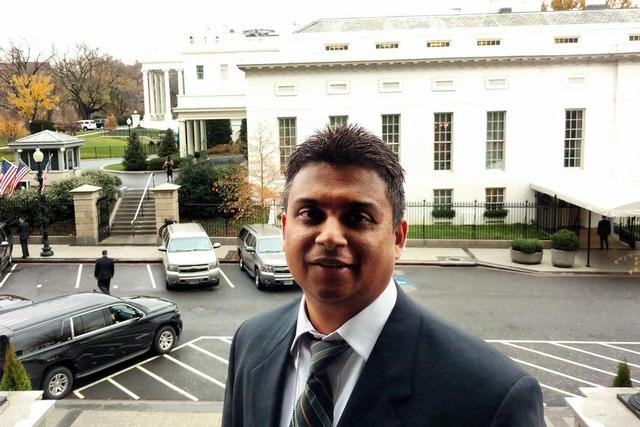 Ajeet Yadav
SMSU alumnus Ajeet Yadav ('04, MBA '07) was recently accepted as a 2016-2017 Policy Fellow at the University of Minnesota Humphrey School of Public Affairs. Yadav is currently the Environmental Health and Safety Director at Central Lakes College in Brainerd, Minn.
A committee of prominent Minnesota Republican and DFL leaders, a nonprofit director, and business leaders recommended Yadav's admission to this year's cohort. The program is designed to develop leaders in self-awareness, coalition building, and understanding of how to make things happen in and around the policy process.
As part of the program, Yadav traveled to Washington D.C. for a weeklong study trip in November 2016. He had the opportunity to meet various representatives and visit the Department of State, Council on Foreign Affairs, Bloomberg News, and the White House.
"All the leaders that I met during my D.C. educational trip had great energy and were very passionate about the work they do to improve the quality of human life." Yadav said. "They are the role models I aspire to be one day — a leader like them."
The selected Fellows propose and complete projects on a variety of topics that explore current issues and potential to make an impact. Yadav's group has selected the broad topic of equity and sustainable energy, and will present their process and outcomes in June 2017.
Yadav stated, "This is a great opportunity for me to learn and develop leadership skills. This is a very stimulating experience that inspired me to find meaning in what I do, taught me to be thoughtful and take responsibility to give back to the community. Most importantly, it helped me understand the meaning of success. Success does not mean individual's achievement, rather it defines collective engagement where everyone excels and communities prosper. This can be achieved by putting our self-interest aside and working towards our shared objectives for collective impact."
Originally from Nepal, Yadav graduated from SMSU with an Environmental Science degree in 2004 and a master's degree in Business Administration in 2007.
"It did not take me long after I came to SMSU to realize that education is not all about earning a degree," Yadav said. "Education is about growth. It is about how we see ourselves and the outer world. It was the academic culture at Southwest that stimulated my thought process to see the greater value that education has to offer. This concept energized me to stay focused. In other words, Southwest inspired me to achieve more. I was motivated to take advantage of every opportunity available at Southwest."
Yadav's interest in improving communities was evident from the beginning of his time at SMSU, where he served on Student Senate and later as the chair of the City of Marshall Human Rights Commission Board for eight years. He continued to be involved after graduation as part of the City of Marshall Housing Commission, the Red Cross Prairie Wind chapter, and as a Chemical Assessment Team Member.  Currently Yadav serves on the Minnesota State Talent Management Steering Committee.
"In the future, I would like to see myself contributing to the larger community and being part of something that generates greater good," Yadav said.
Yadav resides Baxter, Minn., with his wife Rekha and their two sons, Narayan (4) and Neil (1).  
Approximately 35 Fellows are admitted each year from a diverse range of professional backgrounds. The Policy Fellows is one of the country's most respected public affairs leadership programs for emerging and mid-career professionals.
Related Articles