Ben Nwachukwu, Staff Assist Entire Campus
Published Monday, March 27, 2017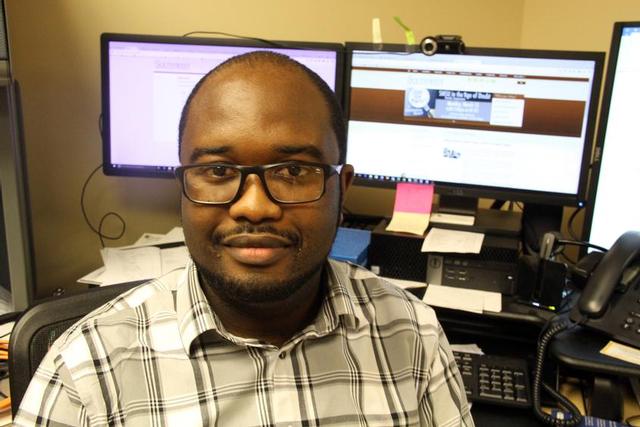 Ben Nwachukwu
"Better call Ben."
That's a phrase heard frequently throughout the academic year when a technology issue arises. The Ben referred to is Ben Nwachukwu, the manager of the Technology Resource Center on campus.
Ben has been at SMSU since September, 2010. He earned his undergraduate degree in Finance and Management from SMSU, and followed that with his MBA degree. He worked in Information Technology all four years as an undergraduate, and was a graduate assistant while he earned his MBA.
What does the Technology Resource Center do? "We provide support to all areas of campus," he explained.
In recent months, he's been teaching campus constituents about the on-campus changes in Microsoft Outlook and the many Microsoft Office 365 programs that are now available. "We plan short training sessions, and sometimes go one-on-one with people in different departments," he said.
The TRC moved into the McFarland Library earlier this academic year and that new location, though somewhat smaller than its previous space on the first floor of Bellows, is very convenient for students seeking assistance.
"It was a good move for us. We get more traffic there, the students are already in the library. And we've extended our hours for us to reach more groups of students."
He oversees two graduate assistants and 13 student workers, and on any given day they're busy fielding questions and offering technology-related assistance to all areas of the University. "We do a lot of things," he said. "Our services range from password issues, email problems, iPhones, wifi issues, tablet troubleshooting, etc. In general, if you have a question about anything that's technology-related, we will attempt to answer those questions."
Ben is a Nigeria native who came to SMSU at the recommendation of his brother Victor, who lives in the Twin Cities. "He was going to another university, and looked up colleges online. SMSU was very affordable, so I looked into it."
Ben said his office is trying to "be proactive with these training sessions, these educational opportunities." No question is a silly one when it comes to technology, and over the years, he's assisted countless individuals in overcoming their technology problems.
 "I work with an amazing group of students" he said, talking about what he enjoys about his job.
Ben and his wife, Stella, are the parents of three children: Adaugo, 5; Chimdi, 4; and Ikem, 2.
Related Articles