Raxson Rax Earns Mark M. Welter World Citizen AwardRaxson Rax Earns Mark M. Welter World Citizen Award
Published
Friday, March 31, 2017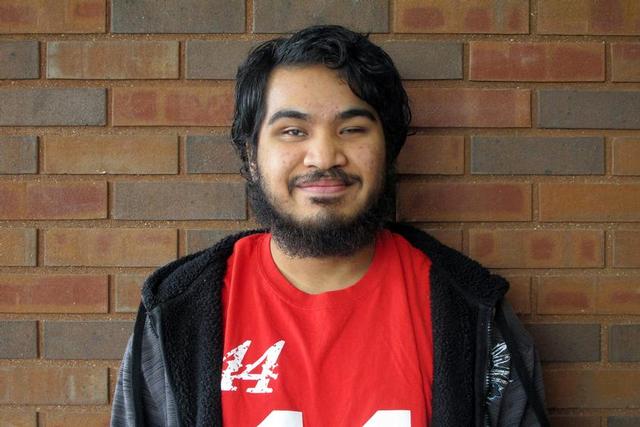 Raxson Rax
SMSU Theatre Arts major Raxson Rax has been chosen as a 2017 recipient of a $500 Mark M. Welter World Citizen Award through the Minnesota State system. He was one of just 20 students in the Minnesota State system to receive the award, which is given to students in good academic standing who have demonstrated a keen awareness of our interconnected world.
Students chosen to receive the award show an understanding that "all people — all cultures, all creeds, all colors, and all countries — have been 'depositors and withdrawers at the world bank of knowledge.'"
Rax was nominated for the award by Deans Jan Loft and Raphael Onyeaghala.
Originally from Milan, Minn., Rax is the son of Nenuta Unnuno and Sebastian Chikino. He has embraced the college experience during his first year at SMSU, joining the Drama Club and performing in several plays.
Rax has been acting since fifth grade, and particularly enjoys playing character roles. "They are the supportive best friends — not necessarily leads, but close. They are characters who affect the lead."
His favorite role was playing two characters, Nicky and Ricky, in last fall's Drama Club "Avenue Q" production. The cast worked with puppets and used different voices for the production. "The cast had a lot of fun together in that play, we were more like family," he said.
The Mustang Family may also recognize Rax from his vocal performance at the 2016 University Gala. "I sang 'Who I'd Be' from Shrek the Musical at an open mic night last fall, and Mike Lenz (Assistant Professor of Theatre) came up to me and asked if I'd sing it at the Gala," he said.
Rax has been singing since age two, and his first public performance was at the age of four. "It was Christmastime, and I sang 'Once In Royal David's City' at Kviteseid Lutheran Church in Milan. I remember looking back at my teacher and wondering why she was crying," he said. His voice has moved many at SMSU as well.
Rax chose Southwest after experiencing the community atmosphere on a campus visit. "The theatre, music and film classes I watched all looked interesting," he said, "and the people I met on the tour seemed open. It was like you wanted to high five everyone there! It seemed like a community."
Rax is enjoying the numerous ways to gain experience in theatre at SMSU, which will benefit him as he looks toward future theatre opportunities. "I opened the door when I came here," he said.
Rax has found diversity to be normal at the university, "SMSU has every ethnicity under the sun, and we all get along. Some people join cultural cliques, but a lot of others go outside that and form friendships with other cultures. SMSU is like a giant skittles bag."
The Mark M. Welter World Citizen Award exists to provide an annual tribute to Minnesota State students who most exemplify the thoughts, words, and actions demanded by a 21st century world citizen.
Congratulations, Raxson Rax, we are proud to have you as part of the Mustang Family!