Enactus Wins Regional Championship, Headed to National Competition
Published
Friday, April 07, 2017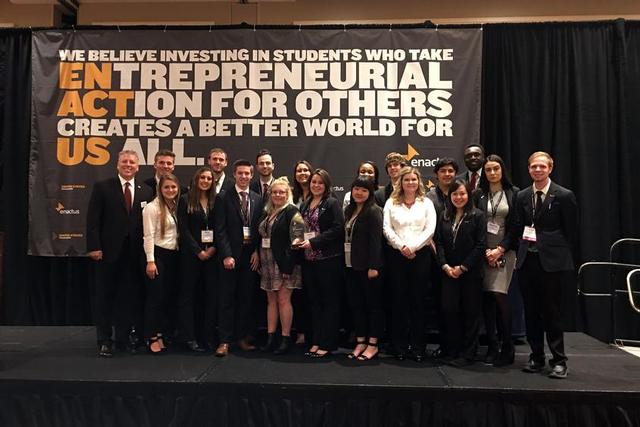 The Southwest Minnesota State University Enactus club claimed the regional competition championship recently in Chicago. The win qualifies the team for the May 21-23 national competition in Kansas City, Mo.
Enactus is a campus group of about 30 students with an emphasis on entrepreneurship.
A presentation team of six SMSU students competed, led by club president Beka Danielson, a sophomore Finance/Management major from Roseau, Minn.
The rest of the presentation team included:
Adeyemi Adelakun, a junior Supply Chain Management major from Lagos, Nigeria
Kyle Antes, a sophomore Marketing major from Windom, Minn.
Maria Baleng, a sophomore Business Management major from Douala, Cameroon
Zach Jones, a junior Management major from New Prague, Minn.
Megan Westrum, a junior Finance major from Steen, Minn.
"The competition went really well," said Danielson. "We are a new and young team, but very talented. The judges were engaged and intrigued with our presentation. They could tell we had each been very involved with our projects this year."
The team's presentation was judged based on its success in seeing opportunity, taking entrepreneurial action, and enabling progress. The team's presentation centered on three main projects the club has been focused on this year.
One of the projects was continued from last year. Enactus worked with community members who have criminal records through an endeavor called The Right Direction. Club members helped individuals with resumes, professional clothing, skill development and other resources to find jobs and adapt back into society. "They all have different stories," Danielson said, "and we become a support system for them." Enactus is in the process of transitioning The Right Direction to a 501(c)(3) non-profit organization so it can continue long-term.
A new project this year is called FLIP, where Enactus students partnered with the Center of Applied Research and Entrepreneurship to provide guidance to international businesses in the Marshall community. The club worked with La Mexicana in downtown Marshall to help them navigate the laws, regulations and processes of managing a business in the United States. "Through this program, we're able to help business owners find their focus and sustain growth and development," said Danielson.
The final project is Operation Organic Waste. Three Enactus students traveled to Haiti in December 2016 to assess the needs in the country's rural farming communities. "They found that, especially since the 2016 hurricane, there is a need for both women's economic empowerment and education on agricultural and composting practices," Danielson said.
Kathy Schaefer and Doug Simon are the group advisors. Eighteen members, along with Simon, attended the regional competition.