Dene Kay Thomas is Commencement Speaker
Published Wednesday, April 19, 2017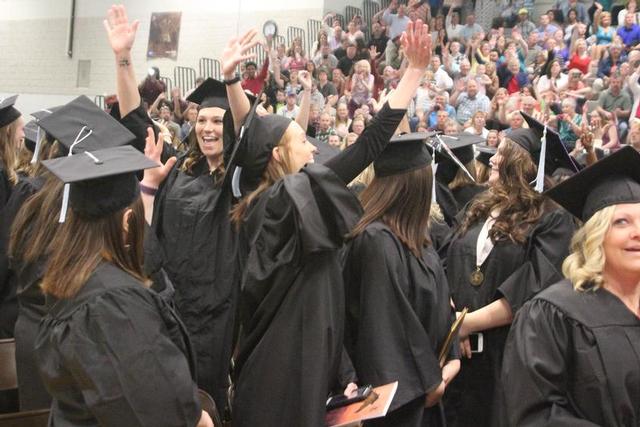 Commencement Photo
The 2017 Commencement speaker, Dr. Dene Kay Thomas, is a true Southwest Minnesota State University success story.
Dr. Thomas is the president of Fort Lewis College in Durango, Colo., where she is in her seventh year as president. Prior to that she was president at Lewis-Clark State College, Lewiston, Idaho, for nine years.
Commencement will be held at 10 a.m. on Saturday, May 6 in the R/A Facility.
Dr. Thomas began her higher education career at SMSU as a 30-year-old single mother of three. She wanted to get a degree to better her life, and thus, the lives of her children. Little could she have imagined where her talents and tenacity would take her.
She is a 1978 alumna with a degree in English and compares SMSU with Fort Lewis College. "Both provide a private college experience with a public-school cost. Both specialize in personal attention, in getting to know students. Both provide a quality education, and both have small class sizes."
Dr. Thomas juggled the responsibilities of being a single parent and a full-time college student while attending SMSU. She earned her degree in just three years, with a perfect 4.0 grade-point-average.
After that it was on to graduate school at the University of Minnesota, where she earned a doctorate in English and met her husband, Gordon, while they were in a class study group together.
The two later accepted positions as English professors at the University of Idaho before "I crossed over to the dark side, administration," she says with a laugh. She eventually became vice provost at Idaho before being named president at Lewis-Clark State College and, later, Fort Lewis College.
Her commencement address is inspired by a small poetry chapbook written by one of her influential professors during her time at SMSU, William Whipple. She'll relate how the Oregon Trail is not only a symbol for moving west, but also a symbol for the journey of life itself. "And in this case, professors helping students with that journey of life."
As for her time at SMSU, "When I think of SMSU, I smile. I'm grateful to have started there."
The Alumni Association honored her in 2009 with an Alumni Achievement Award.
She and Gordon have been married 33 years. Their grown daughters are Christine (Trageser) Ames, an SMSU alumna; Donna Bintz; and Vicki Smith. They have five grandchildren.
Related Articles