Pat Carmody is Cowan Award Winner
Published Wednesday, April 19, 2017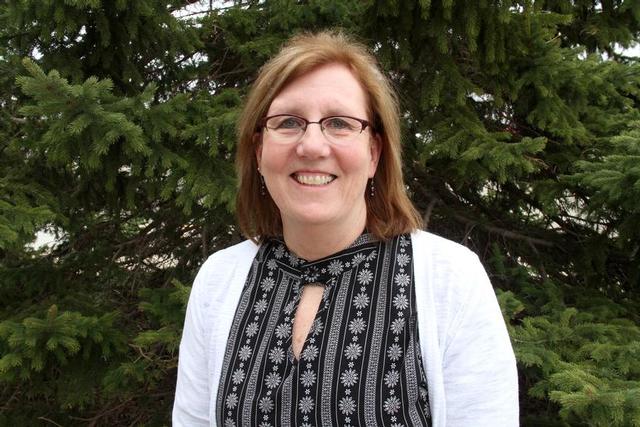 Pat Carmody
Southwest Minnesota State University Registrar Pat Carmody is the 2017 recipient of the Cathy Cowan Award.
The award goes to a faculty or staff member who has made great contributions to SMSU and the region. It is named in honor of Catherine Cowan, the popular SMSU psychology professor who died in an auto accident on Dec. 22, 2001. It is the most prestigious award presented by the university.
Carmody will be honored during commencement exercises May 6 with the presentation of a medal by SMSU President Dr. Connie J. Gores.
Carmody is just a few months shy of 32 years at Southwest Minnesota State. She has been the Registrar since July 2004. She started as an Admission Counselor for six years, then was Coordinator of Transfer Students for three years. She was then Registration/Assistant Director of Enrollment Services for Student Records for 10 years before she became Registrar.
What does a Registrar do? A lot. Carmody maintains the academic records of all students and implements the registration process for classes. She keeps records of all college classes and curriculum prerequisites, determines students' graduation eligibility, helps coordinate commencement activities and prepares information such as honors lists, transcripts and class rankings. The Registrar must also be familiar with college academic policies and graduation requirements, and transfer credit policies.
She is the perfect example of the "above-and-beyond" person that so many students refer to when they talk about their SMSU experience. One, James Buell, a 2012 alumnus, recalls transferring from southern California to play football and arriving just in time to register for classes. Carmody approached him and walked him through the process. They developed a good relationship. "She became like a second mom to me. Pat Carmody is the single biggest reason for my success at SMSU," he said.
SMSU senior, Bilal Louzati, a Morocco native, grew up in Madison, Wis. "All the progress I made at this university is all thanks to Pat Carmody," he said. "She assisted me in overcoming my home sickness, helped me set up my priorities and showed me the meaning of advising."
She oversaw the implementation of the DARS program in the Registration Office. DARS is the main advising tool used by all academic advisors and allows students 24/7 access to check their progress toward graduation.
The biggest change she's seen over the years is technology, which has simplified the registration process. Back "in the day," students used to get a registration card from a professor, and turn those cards into the Registrar. When the cards were gone, the class was filled.
She is a 1980 alumna and majored in both History and Psychology. She returned for a Social Studies licensure in 1981 before finding a teaching job in Jackson for three years.
In her spare time, she enjoys helping her husband, Sean, with their Blue Ribbon Carriage business. They have six horses on their acreage outside of town. She also plays the piano, sews, and enjoys home decorating.
"And I play the same notes, D and E, that Cathy Cowan played in the Cornerstone Methodist bell choir," she said.
She and Sean have three daughters: Molly, a lawyer who works for Sanford Health; Maureen Serlip, a banker in Ivanhoe, Minn.; and Meghan, a teacher in Hendricks, Minn. Maureen and Meghan are SMSU grads.
"I am humbled by this award," she said. "I am joining an illustrious group of people who have won in the past. I think the thing I'm most proud of is my work with our students. SMSU is student-oriented, and I'm proud to be a part of that."
Related Articles