Jan Loft: The Voice of Commencement
Published
Monday, May 01, 2017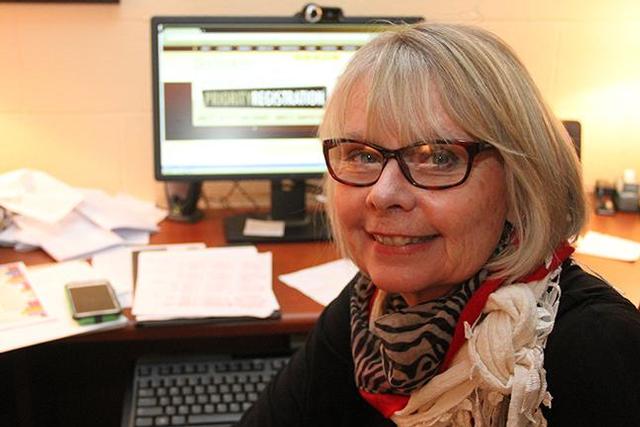 Dr. Jan Loft
The hardest working person the day before, and the day of, Commencement?
Dr. Jan Loft, Dean of the College of Arts, Letters and Sciences and since 1995 the "Voice of Commencement" at the University.
For years, Jan was a radio and communications professor, having arrived for a one-year fixed-term position in 1988-89. That led to a second fixed-term contract, which led to a probationary faculty position. Her talent was obvious. After a distinguished 29-year career, which saw her later move into administration as dean, she will retire at the end of June.
Prior to 1995, department chairs read the names of students in their area who were graduating. That changed in 1995, when Jan read every name to cross the stage. It's been that way ever since.
She takes the job very, very seriously, and it actually begins the day before, when she attends the International Sash Ceremony, where international students receive a sash representing their home country, which they wear over their black robes.
It is there that she will check to be sure she pronounces each student's name properly, so that when the student hands her their name card, she'll know how to properly say their name as they bask in their big moment and cross the stage.
After that, she'll head over to the R/A Facility and talk with the event marshals, to make sure there's no questions. "We have a veteran group of marshals, they know what they're doing," she said.
Then it's to rehearsal, where she will explain the ceremony to those who attend. Not all students do, which can occasionally cause a problem.
The morning of Commencement, she's up bright and early, and is at the Conference Center before the start of the master's hooding breakfast. Those who earn a master's degree are presented a hood, and Jan checks their names.
Then it's over to the various rooms used as staging areas for students going through Commencement. She visits them all, checking names.
She is checking up to the very last minute. "I'll walk down the spine to meet up with the platform, asking if I've seen every card, and inevitably there's a few," she said.
The oddest card she's ever received? "It was the end of an Orbit gum box," she said with a chuckle. "It was written up the side. It was really something."
According to her calculations, "I have about two or three seconds to formulate the pronunciation in my head." That's why she works so hard beforehand to see each student's card before it's handed to her on the stage.
She has a deep voice that has, over the years, been used on numerous University radio spots and voice-overs. It's her own personal brand.
"I guess I first realized it was lower pitched and a little different than most in grade school," she recalls. "The music teacher would get out that pitch pipe, hit a note and say, 'This is where we are going to start,' and I would think, 'No, I don't think so.'"
She's working with several others to create a special 50th anniversary radio display in the Alumni Heritage Gallery in the Student Center, using some of the outdated equipment that's been stored on campus. As she relays that fact, she remembers back to some of that early equipment — the fragile stylus on the old turntables, splicing tape on reel-to-reel machines.
It's hard to name anyone with the same universal respect she enjoys across campus. And, being true to her radio past, she said this of her upcoming retirement: "If I had to say it in lyrics, 'I had the time of my life.'"