SMSU to Host Number of Summer Camps
Published
Tuesday, May 30, 2017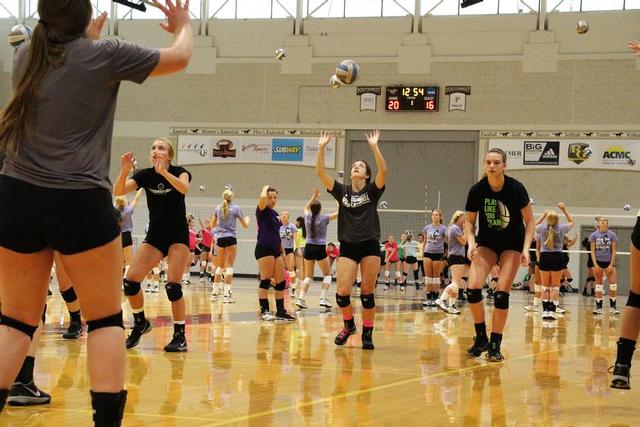 SMSU will host a variety of athletic camps this summer, beginning June 13 with a wheelchair basketball camp. Hundreds of student-athletes entering grades K-12 from around the region will participate in activities to improve their fundamental skills and learn advanced techniques.
This year SMSU offers six different sport camps, including boys and girls basketball, football, track and field, volleyball, and wheelchair basketball. All camps will be held on the campus of SMSU.
Boys basketball camps begin June 18-21 with the Post-Perimeter Elite Camp for boys entering grades 7-12. The Advanced Skills Camp for grades 5-6 will be held June 22-23. New for 2017 is the Mini Mustang Competition Camp, held the mornings of July 31-Aug. 3 for both boys and girls entering grades 2-6. A Mini Mustang Day Camp will be held the afternoons of July 31-Aug 3 for students entering grades K-6.
Girls basketball camps start June 11-13 with the Girls Overnight Skills Camp for athletes entering grades 7-12. An Overnight Skills Camp for grades 5-7 will be June 15-16. The Young Mustangs Camp for Grades K-4 will be June 26-29, and the Traditional Team Camp for both boys and girls will be July 8.
The numerous SMSU football camps start off with the 2017 Youth Football Camp June 15-16 for athletes entering grades 1-6. The OL/DL Big Man Camp will be held June 19, and the O&D Skills Camp (QB/WR/RB/LB/DB) June 20. Both of these camps are open to athletes entering grades 9-12. In July, two additional football camps will be held for grades 9-12: the Individual Skills Camp (All Positions) on July 10, and the Team Football Camp on July 26-28.
The 2017 Track & Field Camp is offered for athletes entering grades 8-12. It will be held on June 25-26 at the Marshall Regional Track & Field Complex.
SMSU volleyball camps start with the Intermediate Skills and Position Camp for athletes entering grades 7-11 on July 10-13. The Advanced Skills and Position Camp for grades 8-12 will be held July 14-16, and the Team Instructional Camp for varsity teams is scheduled for July 17-20. The Young Mustangs Camp for grades K-6 will finish the volleyball camp schedule July 24-26.
The 2017 wheelchair basketball camp will be held June 13-16. SMSU alumnus and professional wheelchair basketball player Ryan Martin will be a special guest instructor.
For more information and to register, visit http://www.smsumustangs.com/sports/2017/2/22/2017camps.aspx.