Wheelchair Basketball Alumnus Ryan Martin Returns for Camp
Published Monday, June 19, 2017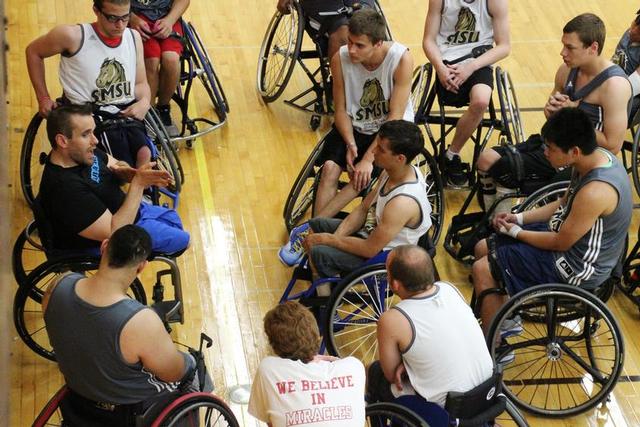 Wheelchair Basketball Camp Athletes
Ryan Martin returned to campus June 13-16 to help with SMSU wheelchair basketball camps for the third consecutive year. A 2002 alumnus, Martin played professionally in Europe for 10 years. He has now returned to Connecticut and founded the Ryan Martin Foundation, where he works with students in the U.S. and Spain to help equip them for a successful future through wheelchair basketball.
Martin was born with spina bifida, and both of his legs were amputated at the age of two. He began playing basketball while growing up in Connecticut. Martin's parents adopted children with special needs, and basketball was a popular pastime for Martin and his 11 siblings. He played with the Connecticut Spokebenders before coming to SMSU to attend college and play wheelchair basketball.
While at SMSU, Martin and his team advanced to the NWBA National Title Game in 2001. After graduating with a degree in Secondary Education and a minor in Sociology, Martin joined the Phoenix Wheelchair Suns and played in the 2005 NWBA All-Star games. He then played internationally for eight years in Spain and two in France.
The non-profit Ryan Martin Foundation is his latest project, which creates sports opportunities for individuals with disabilities in the U.S. and parts of Europe. "All of our programs through the foundation are provided free of charge to athletes and their families," Martin said, "So far we haven't had to turn anybody away."
Over 30 athletes participate in the Ryan Martin Foundation junior wheelchair basketball program in Madrid, Spain, and over 50 in the junior program in Connecticut.
Martin's youth programs focus on helping students navigate educational transitions and set up their IEPs (Individual Education Plans) and 504 plans so they can graduate high school and go on to attend college. "The goal is to encourage athletes to use wheelchair basketball as a vehicle to move on to gainful employment in the future," Martin said.
He has seen and experienced firsthand the impact wheelchair basketball has on youth. "Many students think they can't do something, and then they see wheelchair basketball and realize what they are capable of," Martin said. "They take that outlook to things outside basketball, and it gives them the confidence to pursue activities they didn't consider before. It changes their scope of limitations."
Martin is currently involved with helping develop collegiate wheelchair basketball programs at universities that don't yet have the sport. He is particularly focusing on the northeastern U.S., including the University of Connecticut, Rutgers University, the University of Massachusetts, Syracuse University, and Southern Connecticut State University.
Martin is also a consultant for the NCAA on their Inclusive Sports Model.
He has been happy to return and help with the SMSU camps. "Coach (Derek Klinkner) has done a good job of bringing a wide array of talent to campus," Martin said. "There are a lot of potential future college and Paralympic athletes here from around the U.S. He's built this program into a nationally recognized, elite level camp that elite level prospects want to attend."
Martin is glad to see how the wheelchair basketball program at SMSU has continued to grow in the years since he graduated. "The University's commitment to keeping and supporting the program is something I hope to see other universities emulate," he said.
For more information on the Ryan Martin Foundation, visit: ryanmartinfoundation.org.
Related Articles