President Gores a Presenter at German Conference
Published Friday, June 23, 2017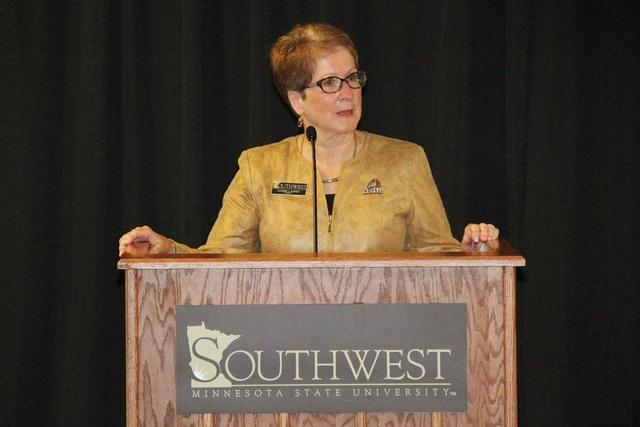 President Dr. Connie J. Gores
Southwest Minnesota State University President Dr. Connie J. Gores was a presenter at the upcoming Dialogue on Innovative Higher Education Strategies (DIES) Conference in Bonn, Germany, June 28 and 29.
The conference was jointly conducted by DIES, the German Academic Exchange Service and the German Rectors' Conference. Its purpose is to encourage an international exchange of experience on questions of innovative higher education policy. Given its high relevance for development policy, the question of how to strengthen gender balanced management of higher education institutions will become a focus of DIES activities in the coming years.
The conference analyzed the potential and prepared recommendations for program development on the topic. Approximately 120 participants from Europe and developing countries participated. To her knowledge, President Gores was the lone representative from the United States asked to participate.
President Gores is a Minnesota and national leader in gender equality in higher education leadership and her presentation is entitled "Advancing Women Leaders in Higher Education."
Earlier in the year, an article she co-wrote with three other Minnesota State system female presidents — "The Benefits of Gender Balance in a System's Presidential Offices" — was printed in The Chronicle of Higher Education, the premier news source for college and university administrators.
She is one of four female presidents elected by their peers to serve on the Executive Committee of the Minnesota State Leadership Council, which is comprised of the 30 presidents of the 24 two-year colleges and seven universities, as well as Cabinet members of the Minnesota State system. She was also an inaugural member of the system-wide Executive Leadership Develop Program in 2011-12. She has participated in training and given keynote addresses, workshops and talks on the topic of leadership on a national level.
In addition, for two years she served as the chair of the Women's Network Executive Council (WNED) of the American Council on Education (ACE), the major coordinating body for the nation's colleges and universities. While chair, the WNEC was instrumental in developing an initiative called "Moving the Needle: Advancing Women in Higher Education Leadership." She is a past chair of the WNEC through the 2017-18 academic year.
Part of her presentation in Germany showed the progress the Minnesota State system has made in the area of female presidents over the years. In 2011-12, for example, 29 percent of presidents within the system were women. In 2016-17, that number was 47 percent. "Minnesota is one of the leaders in this area," she said.
"Women are an untapped resource in senior leadership roles," she said. "They can bring important perspectives and work styles not always evident in executive leadership. This conference appeals to me because there is an emphasis on developing women leaders in all contexts of higher education, with special focus on developing countries.
 "I'm proud to be involved in enhancing the inclusion and diversity of leadership in higher education, and proud to represent SMSU at this conference."
Related Articles