Russ Stanton '74 Started His Political Career Early
Published Friday, July 14, 2017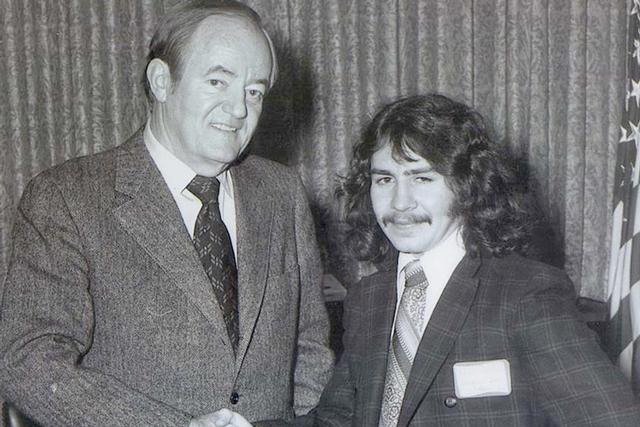 Russ Stanton with Hubert Humphrey, c.1971
This is the first of an occasional series of articles about individuals from the University's first 50 years.
It's not every day that a Marshall City Council member gets arrested during an anti-war protest.
But then again, it's not every day that a Marshall City Council member is also an SMSU student.
Such was the case with 1974 alumnus Russ Stanton, a political wunderkind who not only was a city council member, but who would later, as a student, win a state House seat.
He came to SMSU fresh off the family farm near Northfield, Minn. He had gone to Mankato State for two quarters but put a halt to his college career to work a year. "I decided that college sounded good again after that," he said with a chuckle.
"I had friends from Northfield who were at SMSU and they described it as an innovative place. I visited to see for myself, and it was."
Stanton said in those early days of the University, "there was a lot of chances for independent study, which suited me, as I was self-motivated. I was an Interdisciplinary major, I cobbled together political science and sociology."
A lot was going on in the country and it was slowly making its way to the campus of SMSU. "For me, it was being at the right place at the right time," he said. "Eighteen-year-olds could vote, which opened up opportunities. I was a rural kid who sort of fit the times. I understood the area. My focus was never just the campus; I looked at the broader picture, I think that's what made me successful."
One of those independent studies was about power in Marshall — who had power, and why. "I interviewed people in formal power. There was great consensus who the movers and shakers were. Many did not hold formal public office, and I talked to them, and asked why they had influence."
What did he learn? "I realized people in the community were not that different than me, and they realized I was not that different than them. Some were flattered I took an interest. When I decided to run for city council, I had people in the community — movers and shakers — that liked me and gave me good advice."
He was elected in 1971, "and boy, was it a roller coaster after that," he said.
It was while he was on the council that he participated in an anti-war demonstration. "I helped organize it. I called down to Captain Davis and the county attorney and talked about where it would be, which was down by East Side grade school. They said that's a long way from the jail so there would be a bus there. I was one of 166 arrested."
He was elected to the House in 1972, and won re-election in 1974 and 1976. "In 1978, that was a bad year for the Dems," he said. "We lost 37 seats."
He attended part-time due to his legislative duties, graduating in 1974.
He enjoyed his time at SMSU, and is thankful to the university for "being a very flexible institution that gave me a lot of leeway. As a student, I was a person who learned by doing."
And boy, did he do a lot.
As for his early political career, "I found youth to be an asset, not a liability. I went door-to-door in the small towns and a lot of older people said 'I'll support you, we need some new blood. Let's try something new.' I didn't find it to be a liability."
That whole time, he said, "was a real whirlwind. The first time I had been in Marshall was late February 1969. Two years later I was on the city council, and three years later I was representing the area."
Stanton recently retired after 30 years as Director of Governmental Relations for the Inter Faculty organization (IFO). He lives in Edina.
He still gets involved with political issues, such as the defeat of the proposed constitutional amendment banning gay marriage and the passage of the gay marriage law in Minnesota. He was a Hilary Clinton delegate to the Democratic National Convention in 2008, but ended up voting to endorse Barrack Obama when Clinton released her delegates.
A year ago, he went to Antarctica and Vietnam, and recently traveled to Australia, thus making him one of the few who can say they've visited every continent.
Related Articles