Dr. Aimee Shouse New Dean of College of ALS
Published Monday, July 17, 2017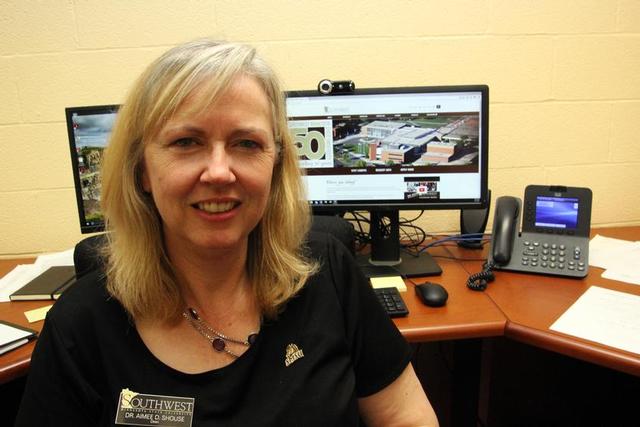 Dr. Aimee Shouse
SMSU's new Dean of the College of Arts, Letters and Sciences Dr. Aimee Shouse puts her job simply: "My job is helping people," she said.
Shouse comes to SMSU from Western Illinois University in Macomb, Ill., where she was Director of the Liberal Arts and Sciences Program. She was also the chair, and a professor, in the Department of Women's Studies there.
She is a Conway, Ark., native, who earned her BS degree in Political Science from the University of Central Arkansas, located in Conway, 30 miles north of Little Rock.
From there, she would earn her Ph.D. degree in Political Science from Vanderbilt University in Nashville, Tenn.
She took a job as Assistant Professor of Political Science at Western Illinois and held several positions during her time there. Administrative positions included Department Internship Coordinator, Coordinator for General Education in the College of Arts and Sciences; Acting Chair of Political Science; Acting Chair, Interim Chair and Chair of the Department of Women's Studies; and Director of the Liberal Arts and Sciences Program.
Illinois is undergoing a state budget crisis which has negatively impacted higher education and Shouse thought it might be a good time for a fresh start.
Her early impressions here? "I like the mission of the University, and the balance of liberal arts and professional programs," she said. "I also like the size, and the fact you can get to know people.
"People here care about the institution and the students," she continued. "It's student-oriented. One of the hardest things for me, moving into this position, was the fact I wouldn't be in the classroom anymore."
Shouse replaces longtime faculty member and dean Jan Loft, who retired at the end of June. "She has been very helpful, as has Dean (Raphael) Onyeaghala. I've had a lot of people on my calendar who want to stop by and introduce themselves. SMSU, and the community, are very welcoming places."
Shouse and her husband Robert have two daughters, Emma, a graduate student in design in Paris, and Meghan, who will study fashion merchandising as a freshman at Iowa State University this fall.
Related Articles