SMSU Ag Education Students Chosen for MAELC Internships
Published Monday, July 17, 2017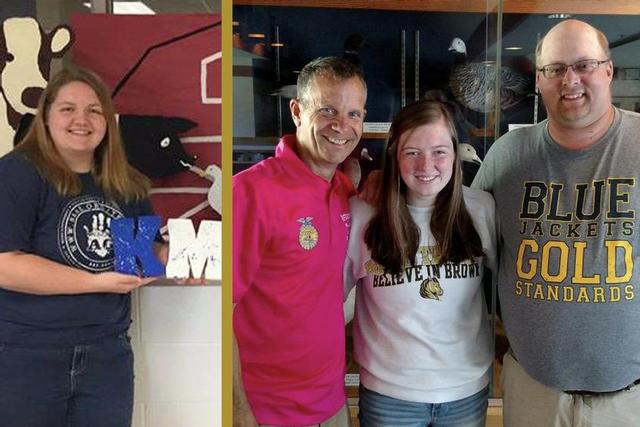 Ananda Stafford, left photo, and Gabby Power, right photo
SMSU Ag Education Students Chosen for MAELC Internships
Two of SMSU's Agricultural Education students are interning this summer with the Minnesota Agricultural Education Leadership Council (MAELC).
Gabby Power, junior ag education major and Readlyn, Iowa native, is working in the Grand Rapids, Minn., school district with Shawn Linder. Amanda Stafford is from Columbus, Minn., and a sophomore ag education major with agronomy and ag business minors. She is based in the Kasson-Mantorville, Minn. School district with Lori Pagel.
MAELC is a 17-member legislative council dedicated to improving and restructuring Agricultural Education in Minnesota at all levels. The organization matches seven interns with ag teachers in Minnesota each summer.
The internship is giving both students first-hand experience with summer ag education opportunities. "It's showing us the FFA component of ag education," Power said. "We get classroom experience through placements during the school year, so this is a chance to see what ag educators do in the summer."
Stafford just returned from a three-day summer tour around Minnesota which she helped organize for the Kasson-Mantorville FFA officers. The summer ahead will include assisting at the local county fairs, working with the FFA advisor and officers to plan activities for the upcoming school year, reviewing ag education standards, organizing resources for chapter officers, and attending the MAAE Summer Conference, the state conference for ag educators.
"I'll also be leading a workshop on how to use the Agricultural Experience Tracker (a personalized online record-keeping system) and assisting students one-on-one with records in preparation for their FFA State and American Degree applications," Stafford said.
Both interns are learning there are many different ways to teach agriculture. "My high school taught ag classes as Ag 1, 2, 3 and 4, but here the classes are based on topics, such as small animals or greenhouse management," Power said. "They also teach to the area. Since Grand Rapids is in northern Minnesota, they teach more about forestry than crops. It's important for ag teachers to provide kids what they need for the future in each region."
Stafford is picking up tips on FFA advising as well. "I'm realizing each FFA chapter has different strengths and they all have areas where they can grow. Each one makes a positive impact, and I'm collecting a variety of tools to use in the future," she said.
Shawn Linder is a Grand Rapids ag education teacher and Power's advisor for the summer. He hopes interns will come away knowing what they're getting into in ag education, so he tries to provide as realistic an experience as possible.
"We want to empower ag students to have an impact. We're always looking into more considered approaches to educating younger kids and helping them know where their food comes from," Linder said. "It starts with classrooms, and we continue to expand avenues for ag education. Career opportunities are bright in this field."
Power also spends time assisting the Staples-Motley ag teacher, Kerry Lindgren. "Summer is so different, so it's a great opportunity," said Lindgren. "I'm excited for Gabby's future in ag ed. She has lots of potential and a great attitude. She's willing to reach out and experience new things, which will be very helpful for the classroom in the future."
Power and Stafford both knew they wanted to be teachers, and the home-away-from-home they found in their high school ag classrooms and FFA chapters influenced their career choices. Stafford enjoyed the combination of science and agriculture, and was invited to attend the MAELC "Tag to Teach Ag" conference in high school by her FFA advisors. "After that, I knew this was what I would do," she said.
Power appreciated the opportunities to have fun and learn a variety of new information. "Ag, especially through FFA, has been such a significant part of my life, so I knew it would be something I would want to keep doing," she said.
Both Power and Stafford are leaders on campus as well. Stafford is the Newman Club treasurer, Ag Club vice president, Minnesota PAS secretary at the state level, and a student photographer for SMSU. She was the secretary and treasurer for RHA this past year and will be a co-advisor for the group during the 2017-18 academic year. 
Power is a member of the Student Activities Association, Student Center governing board, Ag Club, and participates in intramurals. She was elected a student senator for the 2017-18 academic year and will also serve as RA of the Ag Living and Learning Community.
The two are appreciative of the newly-formed Ag Living and Learning Community in the Charisma Residence Hall.
"The Ag Ed girls can easily decide to go to dinner together or knock on somebody's door to ask questions about a class, or anything else," Stafford said. "It's also convenient to be so close to the three other PAS state officers at SMSU. Plus it's very close to the academic buildings, which is worth it because you can go to class in shorts in the winter if you want!"
Power is looking forward to finding an ag education job in Minnesota after graduation.
Stafford is also looking forward to working as a teacher after graduation, and hopes to continue working her way up in FFA as well. "Lavyne Rada is the Leadership Development Coordinator for Minnesota FFA, and a role model for me," Stafford said. "I hope to continue combining my passions for ag leadership and working with youth."
Visit the Minnesota Agricultural Education Leadership Council (MAELC) Facebook page to follow their adventures as the interns take over the page for the summer.
Related Articles