President Gores, Zyla Family Meet on Move-in Day
Published Thursday, August 17, 2017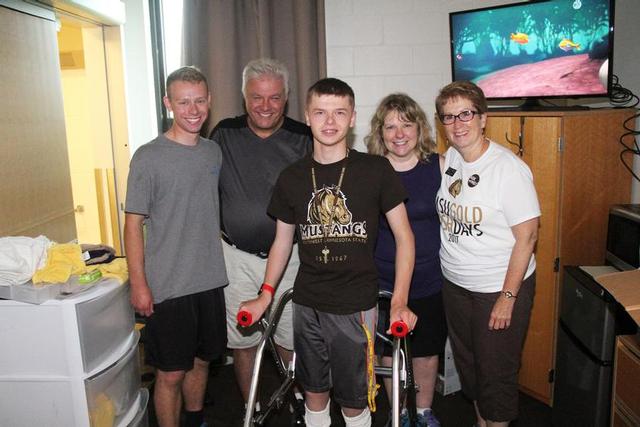 From left: Zach, Paul, Jacob and Monica Zyla and President Connie J. Gores
SMSU President Dr. Connie J. Gores was checking in to a Delta counter at Minneapolis International Airport on her way to California when the woman helping her noticed the small SMSU insignia on her shirt.
"I asked her if she had a student going there," said Monica Zyla. "She told me that she worked there. I had no idea she was the president!"
Monica told President Gores she has a son, Jacob, attending SMSU, and shared her chance meeting with him when she got home. Jacob, a freshman, followed up with an email to President Gores, who offered to help him move in during Gold Rush Days.
As it turns out, they may be related somewhere deep down the line.
The Zyla family and President Gores met up near Sweetland Hall, where Jacob will live this academic year. It is there that Jacob's father, Paul, told President Gores that his mother, Arlita, was a Gores, also.
"We have to be related somewhere," said President Gores. That led to some talk about family genealogy, and both said they'd check their respective family books to see if, possibly, that may be the case.
Jacob Zyla has Cerebral Palsy and gets around nimbly with a walker. "He wasn't supposed to talk or walk," said his mother. "He's come so far. He had a job, a car. He's gone through many, many surgeries."
"It came down to SMSU or Arizona," said Jacob. "At SMSU there was more accessibility, and it has more people like me. It felt like home."
He graduated from Lakeville South and, from working at the Target store there the last two-and-a-half years, he's got his first year of college paid for.
He's an industrious young man, as well. He has created two smartphone apps which have been accepted for sale — Tennis Pong and Vanishing Letters. He has his own app design business called JZ App Design.
Through his mother's job with Delta, he's also well-traveled, having been to Ireland, London, Paris and Costa Rica, as well as many domestic cities like San Francisco and New York.
And through the Angel Wings Foundation — where he is an intern, assisting with the development of apps — he's also been hang gliding and paragliding.
The Zyla family was appreciative of President Gores meeting them on such a busy day, and both she and Paul Zyla agreed to do more research to find out if, indeed, they are distantly related.
Related Articles