Students, Parents Appreciative of 'Mustang Movers'
Published Thursday, August 17, 2017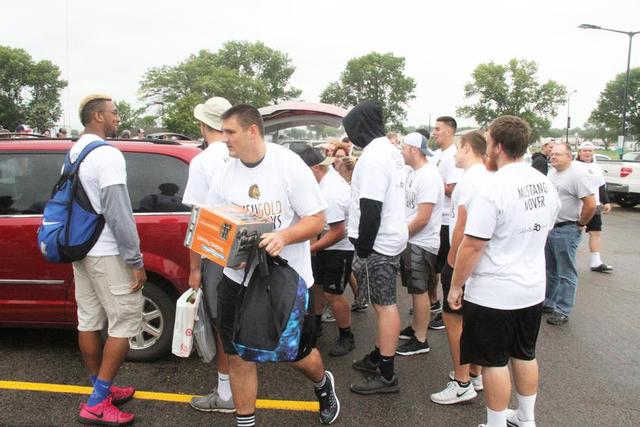 Mustang Movers in action
Parents who have moved students into other institutions don't know quite what to expect when the show up to lug belongings into the residence halls.
At SMSU, they arrived on Gold Rush Move-in Day August 17 and were met with literally hundreds of helping hands to make the move go easily, and quickly.
The Move-in Day tradition was started by Doug Sweetland back in 1994. Its beginning was humble, and has blossomed to include Mustang athletic teams, faculty, staff, administrators and community members.
Their wide-eyed reaction to what was happening gives credence to the University's slogan, "Where You Belong."
"This is my fourth child. I've never seen this before," said Andrea Zimmerman from Waseca, who pulled in to move her daughter Jade into Sweetland Hall. Quickly, their vehicle was surrounded by a dozen Mustang Movers, and within 5 minutes, everything was on its way up to her room.
"We had two kids at the 'U', and one at Wisconsin-River Falls. It was nothing like this. This is awesome," she said.
Tim Bass from Slayton drove his pickup into the lot and experienced the same thing. His daughter Kayla will be majoring in Elementary Education and the attention they received was appreciated.
"I've done this four times, sent kids off to college, and some places had some movers. But it was nothing like this. It's just something about 'Minnesota Nice' here. They were there right away, there was not wait — it was just a really good experience."
Rusty Hoffmann from Sleepy Eye was moving his first daughter on Thursday. "This is awesome," he said, surveying the scene around him. "I have an older brother, Rick, who had a daughter go here — Cheyenne. He told me about this. It's really cool."
Bremer Bank President Cindy Verschaetse arrived early, one of six Bremer Bank employees on hand to help incoming students. "This is just a great day. I love it," she said.
President Connie J. Gores has said that Move-in Day is one of her favorite days of the year because of the air of promise and energy that surrounds the day.
"I love this day," she said. "It's a way to welcome to the Mustang Family our new students."
And while other campuses have emulated the SMSU Move-in Day, "We've got it figured out," she said.
"We are changing lives every day, that's what we do," she said.
Related Articles