Stu Galstad has Seen Rapid Change in Technology in 45 Years
Published Thursday, August 24, 2017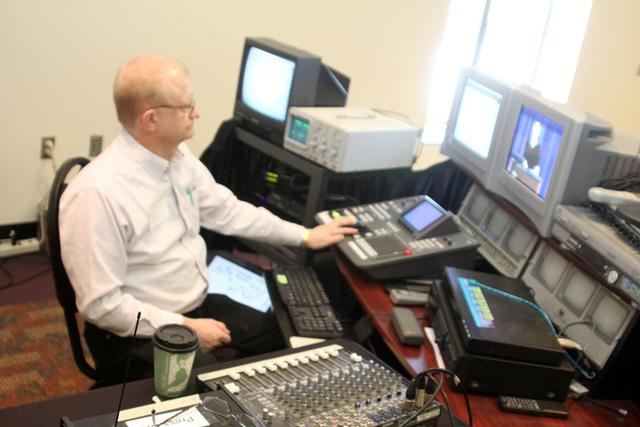 Stu Galstad
Technology at SMSU has certainly changed over the years. And if there's one man who has seen the progression of technology it's Stu Galstad.
Stu is starting his 45th year at the University, and is the longest-employed person on the payroll.
He graduated in 1975 with a degree in Electronic Engineering Technology and has been at SMSU ever since. He's had several roles over the year, all dealing with technology. His official title is Electronics Technician Senior.
He enrolled at what was Southwest Minnesota State College in the fall of 1970. In the fall of 1971, he took a full-time position as a technician, assisting with maintenance on what was then groundbreaking technology, the Random Access System. He was still a student, and juggled his schedule to accommodate classes and work.
"Basically, it was audio made of classes. Somebody would come into the class and record it, and then that would be put on a cassette, only ones much larger than the cassettes that became popular in the '70s. These were quarter-inch, versus those, that were an eighth of an inch."
The hub of that system was in what is now Bellows 165, he explained. "There were three racks, side by side. That's where the cassettes were, and many copper telephone lines came into that. Each deck had a phone number, so if you had a class, it would be assigned a number. A student would then dial into that number from anywhere in the world and review the class. They didn't record all the classes, I don't know how that was selected. It was my job to fix the modules that went into the decks.
"Eventually, those old decks were phased out due to a lack of use. We do that nowadays with Adobe Connect. We were a real pioneer in the Random Access System."
Tape is rarely used now, he said. "Now it's electronic SD cards, everything is digital. The move to digital has improved audio and video, you don't get the tape noise."
Stu's expertise is invaluable across campus as he assists with the technology associated primarily with video for events. He has an inquisitive mind and enjoys the challenges that come with advances in technology. "It's really changed over the years, and will continue to change," he said.
When he's not working, Stu enjoys flying radio-controlled airplanes as a member of the Marshall RC Club. "I've been doing that for about 45 years," he said. "We fly every Thursday, and often any nice evening."
The club is headquartered west of Marshall a few miles, just off of Highway 23. Stu is also a full-scale pilot, but hasn't flown for several years. "I've always been interested in aviation. In fact, it was my interest in RC planes that got me interested in electronics and led to my career as a technician.  I like flying RC planes, because I like the idea that you can control the plane from the ground."
His collection of planes has grown over the years. "I've flown 11 so far this year. I have more," he said.
If there's one area on campus that's changed perhaps the most — and exponentially — it's technology. Stu has been a part of that for most of the University's history. He's been a patient and helpful presence on campus for all those years.
Related Articles