SMSU, Southeast Technical Institute Sign Partnership Agreement
Published Wednesday, August 30, 2017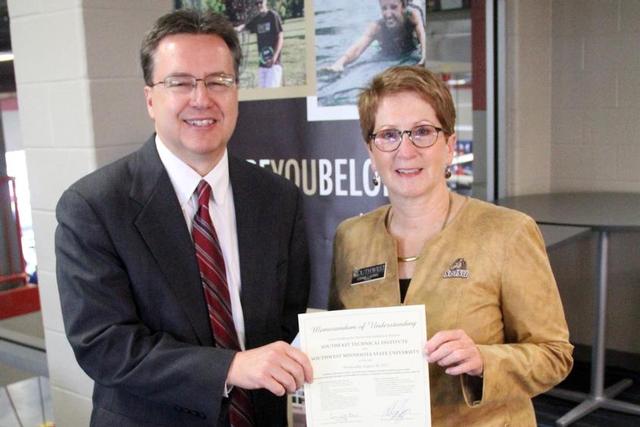 STI President Bob Griggs, left, and SMSU President Connie J. Gores
Southwest Minnesota State University and Southeast Technical Institute of Sioux Falls have entered into a partnership to assist Southeast students who wish to transfer to SMSU to earn their four-year bachelor's degree.
 SMSU President Dr. Connie J. Gores and a team of SMSU personnel joined Southeast Technical Institute President Bob Griggs at a signing ceremony on Wednesday, August 30 on the Southeast campus.
"This is a very welcome agreement," said President Gores. "It's also our first agreement of this type with an institution outside of Minnesota, and we're looking forward to the partnership."
The agreement spells out a number of steps each institution will take to assist students who wish to transfer to SMSU in pursuit of a four-year degree after earning their two-year Associate of Applied Science (AAS) degree.
The agreement targets Southeast Technical Institute Business Administration and nursing students who may want to transfer those credits and pursue Business Management and RN to BSN degrees at Southwest Minnesota State.
"Discussions have been taking place over a two-year period," said Dr. Mary Jones, Director of Extended Learning and Academic Outreach at SMSU. "This really opens the door for those students and gives them additional options."
President Gores indicated that discussions are ongoing regarding other specific academic areas, as well.
Related Articles