50 Years: Remembering the First Keg Roll
Published Friday, September 08, 2017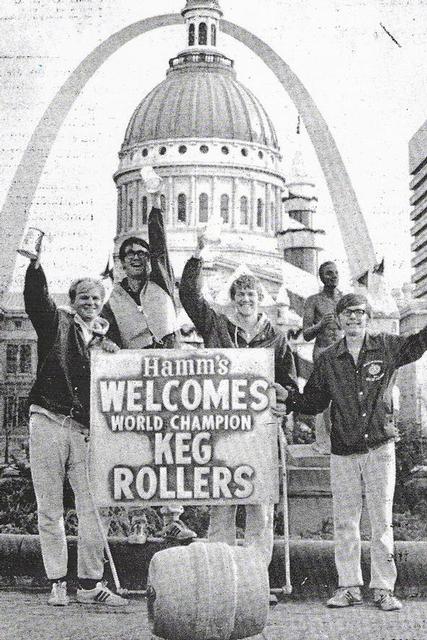 From left: Brad Kingeray, Richard King, Jr., Ronald Hagen, Tom Karlson.
As best as Tom Karlson can recall, the idea to roll an empty keg of beer to St. Louis, Mo., was hatched — where else? — at a party.
"Back in those days, you'd hear on the radio about fraternities rolling a keg of beer a certain distance. Initially it was 25 miles, then 50, then 100. We were sitting at a party someplace, talking, and someone said, 'We can do something like that, and we don't need 25 guys to do it.'"
Thus was born the idea to beat what was then the keg-rolling distance record. It was the first of two SMSU keg-rolling adventures in the university's history, the second coming 10 years later.
Karlson is a Pipestone, Minn., native. His team consisted of Brad Kingeray, Windom, Minn.; Richard King, Jr., Minneapolis; and Ronald Hagen, Edina.
"As the weeks went by the distance record was 225 miles, and then it went up to 420 miles (Lea College, Albert Lea, Minn., since closed)," said Karlson. "We got a map out, and took a look. We made a ring around Marshall, and St. Louis showed up, at 600 miles away," he said."
And if you're going to St. Louis, why not get Budweiser to sponsor the trip? Somehow, they got the telephone number of August Busch III, president and owner of Budweiser. "We called him collect, he answered the phone, and accepted the charges!" said Karlson, still surprised by that fact. "We told him what we were doing, and he handed us off to his PR people."
The local Hamm's distributor got wind of their plans, though, and upped the ante, offering a $250 scholarship to Southwest Minnesota State College in their names.
 "We picked up the Hamm's keg, which was aluminum, and a lot lighter than the Budweiser stainless steel keg."
From there it was off to the physics lab, where the group modified the keg. "We put a one-inch solid steel bar through the middle of it, put ball bearings on each side and then we connected conduit from each end. We had good control," he said.
He collected "a couple hundred bucks" from friends for gas. On Thanksgiving, 1970, they began their adventure, one what took them on back roads and through many a small town. Their trip was 619 miles.
A storm had left four inches of snow on the road when they started out, and the going was tough. "As we were coming through the south side of Marshall we found a bike laying in the ditch. We took one of its tires and wired it on the keg, and so we had better traction for a couple of days," he explained.
They took turns, initially, going a mile at a time. "But that goes slow," said Karlson. "Three guys would be in the car and one guy roll. We got bored and decided to go at half-mile increments the rest of the trip. That speeded things up. We'd make a switch, drive ahead a half mile, and then switch again when the keg reached the car."
He remembers vividly the noise the keg made, and the commotion it caused. "You could hear it coming a mile away. Any little bounce made a lot of noise. We went through a lot of small towns. The worst thing was when a cattle or hog truck passed by."
They experienced all sorts of weather on the trip. The would eat a good breakfast, snack on candy during the day, and have a good dinner in the evening. They stayed in a number of places, including fire halls and jails.
Ten years later, a group of nine students rolled a keg from St. Louis, back to Marshall.
The record was not certified by Guinness. "We tried to do that, but there was no one watching us the entire trip. We never cheated at all, but because no one watched, they couldn't put it in their world record book."
Today Karlson works for BASF, a chemical company, and lives in Northfield.
The four will roll that same keg in the September 30 Homecoming parade, which begins at 11 a.m.
"We're really looking forward to coming back," said Karlson. "That was a fun adventure."
Related Articles