Movillas a Distinct Memory for '72 Alumnus Dybsetter
Published Friday, September 15, 2017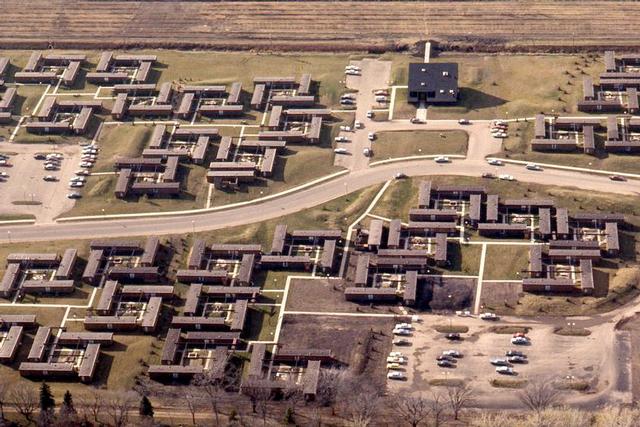 The Movillas
It's a memory Dave Dybsetter will never forget.
"We were living in the Movillas. They sprang up in the fall of 1969, and yes, they were as crazy as they say. That year, they drew the draft numbers (for the Vietnam War). The whole place was quiet that night. Everyone was glued to the TV as they drew the numbers. They were drawing up in the high 200s then. I had a student deferment, so as long as I kept my grades up, I kept my student deferment and stayed in school. Some students were extremely worried."
The Movillas he's referring to were a temporary housing solution to accommodate students at the new Southwest Minnesota State College, as it was called when it opened. Dybsetter graduated in 1972 with a degree in Speech Communication.
He attended Canby High School and grew up on a farm near Porter. He selected SMSU "because I wanted to be a part of something new. It was intriguing to me, and I had some friends who were students."
Dybsetter manages the seed sales business at Helena Chemicals in Canby. He's had several jobs over the years, including stints with Graco, a fluid-handling systems business; advertising sales; and farming.
Everything was new back in those early days of the university. Hundreds of students showed up in Marshall, which at that time was less than 7,000 people. Faculty, generally speaking, were young, and both students and faculty understood they were in on the ground floor of something — what, no one was quite sure.
He entered in the fall of 1968, a tumultuous time in our nation's history. Vietnam War protests were being held across the country, and that included Marshall. During one protest in tow, over 100 students were arrested.
"There were a lot of anti-war demonstrations when I got there," he said. "The majority of students were against the war. I tried to stay out of it because my brother, Dan, was over there. I had some friends and acquaintances ask why I didn't take part in demonstrations. I said that in good conscience, I couldn't."
The Movillas were a group of trailers, arranged into 'pods' of four. Each trailer held four people, and two of the trailers were for women, and two, for men. "There was a community area in the middle of the trailers. It seemed like each four-trailer group was its own clique. It was great to get to know those people, and they tended to stick together, but on the other side, you didn't get to know a lot of people in other areas of the complex."
The Movillas were located on Village Drive, west of campus, and served as a temporary housing area while permanent residence halls were being constructed. The last remnant of the Movillas is now a part of Samuel Lutheran School. "We used it as a place to hang out and watch TV," said Dybsetter (see black-roofed building in photo).
"They were poorly constructed trailers," is how he describes the Movillas. "There's the story of Ford tractor pulling a mower behind it, and the tractor bumping the end wall, and it just fell out," he said.
"In the winter, they were quite breezy, and the pilot light in the furnace would go out. It was freezing in the morning when that happened."
As far as hijinks, there was a good share of that, too, he said.
As permanent residence halls were finished, the trailers were taken offline. Some ended up at what was then Mankato State, piled on top of one another, a sort of vertical trailer park.
Dybsetter's first winter on campus was one of the worst in memory. "The snow was so deep that after storms, the drifts would be over the cars in the parking lots. Kids would know their car would be in a certain location, but they didn't want to dig, so they had big poles, and would walk on top and push the pole through the snow to find a car, and then dig to see if it was theirs. The wheelchair students had a tough time. We would lift up their chairs completely and move them because the snow was so deep."
He thinks of SMSU fondly, and said he good a good education that prepared him for life after college. "There were always people willing to help," he said. "My math was not the best, and if you needed help, you could find it. I think we had some really good instructors. They cared, and for them, too, it was a new experience to be a part of this new college. Most took it very seriously. I think, in talking to people over the years, I received as good of a quality of education as any other state school in Minnesota. Those were exciting and fun years."
Related Articles