Five to Receive Homecoming Alumni Awards
Published Thursday, September 21, 2017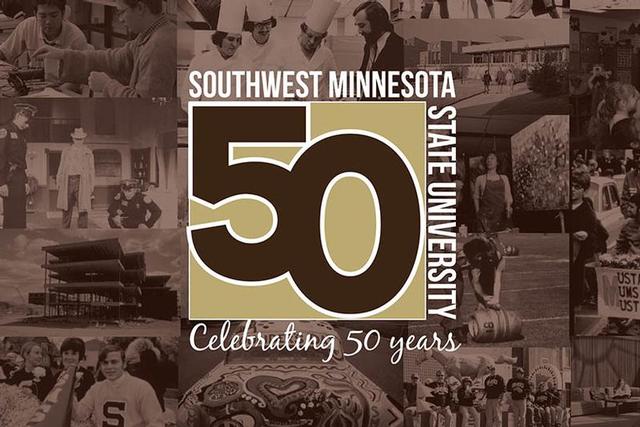 SMSU's 50th Anniversary Logo
Five individuals will receive Alumni Association awards at a Sept. 29 noon luncheon in the Conference Center Ballroom on the campus of Southwest Minnesota State University.
The event is part of the University's 50th anniversary Homecoming activities, with a theme of "Forever Brown & Gold."
Alumni Achievement Awards are presented to alumni in recognition of professional success and the positive reflection made on the university and fellow alumni. Alumni Achievement Award recipients include Sheila Anderson, Chief Financial Officer for Daktronics, the world leader in video display; Craig Porter, owner of PlastiCert, a custom plastic parts manufacturing company in Lewiston, Minn.; and Curt Weber, co-owner of Midwest Machinery, a group of John Deere dealerships.
Honorary Membership Awards are presented to individuals who are not SMSU graduates, but who give their time, talent and enthusiasm to the university. The Honorary Lifetime Membership Award recipient this year is Environmental Science Professor Dr. Emily Deaver.
The Graduate of the Last Decade (GOLD) Award is presented to an individual who has distinguished him/herself in the last 10 years since graduating. This year's recipient is professional opera singer Ryan Hugh Ross, a 2008 alumnus now living in Cardiff, Wales.
A closer look at this year's honorees:
Sheila Anderson, '95
In the world of video display, one company stands head and shoulders above the rest: Daktronics.
Southwest Minnesota State University alumna Sheila Anderson is the Chief Financial Officer for the publicly-traded company, founded in 1968 and headquartered in Brookings, S.D.
The former Sheila Rangaard is a Canby native who graduated from SMSU in 1995 with an Accounting degree. She transferred here after a year at South Dakota State University. "SDSU didn't have business or accounting, degrees I desired, and since I was familiar with Marshall and the SMSU program was strong, I decided to transfer to SMSU my sophomore year," she said.
She has been at Daktronics for 15 years, starting as a project and cost accountant and working her way up the ladder. She has been the Chief Financial Officer for five years.
The company has plants in Brookings, Sioux Falls and Redwood Falls, and facilities in Ireland and China, as well. "We are a global company and I've been able to travel the world," she said.
She remembers her time at SMSU fondly, mentioning the quality of the classes and how well she was prepared after graduation. The small environment and class sizes agreed with her, and she also mentioned the tunnels, which allowed her to not have to go outside when the wind howled off of the Buffalo Ridge.
Sheila was active as an officer in the Accounting Club at SMSU, and credits Professor Mike Boedigheimer for assisting her throughout her academic career. "He helped me find an internship in St. Paul that launched my accounting career," she said. She also mentions Glen Bayerkohler and Ed and Jan Kraft as influential professors.
SMSU has been honored for its affordability and that fact was also attractive to Sheila when she decided to transfer to the University.
What draws her to the profession? "Accounting and finance are areas of a company where you can see all that is going on across a company. This activity translates into financial results and outlooks. This information helps me provide insight and advice to a variety of managers working to improve the business. This type of work is interesting to me and I see and learn new things every day about our company or the business environment."
Her daughter, Courtney Anderson, is a junior accounting major at SMSU, and a Residence Assistant, as well.
Sheila and her husband Steve have another daughter, Ashley, who is in high school in Brookings.
"This award makes me feel very humbled, honored and thankful," she said. "SMSU provided a great education to me and was foundational to my career success."
Craig Porter, '79
It's safe to say that Craig Porter is the only person to have a residence hall named after him when he was still a student at SMSU.
Craig is the owner of PlastiCert, a custom plastic parts manufacturing company located in Lewiston, Minnesota, a community of 1,600 located 20 miles west of Winona.
A Burnsville native, he was all set to attend another university when swim coach Don Palm came calling and convinced the talented diver to become a Mustang. He dove on the swim team his first three years, and graduated in 1979 with a degree in Electronic Engineering Technology.
His degree took him to a number of places before he landed with PlastiCert, a company at that time with plants in Pennsylvania and Minnesota and headquarters in Florida. He joined in 2004 as an operations manager and in 2008, in the midst of the depression, he was promoted to general manager. Both the Pennsylvania and Florida sites closed down in 2009 and, with the company struggling financially, he made an offer to the owner in 2010. He took sole ownership of the Minnesota site in September, 2011. After that, he said, "It was off to the races."
Under his direction, the company dug itself out of its financial hole. Today, it employs 25 and makes custom composite plastic parts. "We have the equipment, and the expertise," he said. "Our work is custom." PlastiCert's clients include energy, avionics, agriculture, sporting goods, medical and military.
And while Craig learned a lot in the classroom at SMSU, it was socially where he made perhaps even greater strides. A self-described science and math nerd, "I was a typical introvert," he said. "What SMSU did was to grow me as a young adult and helped me overcome being an introvert.
"I grew socially, and gained confidence, and being on the swim team helped with that. By the end of my sophomore year I was chosen to be a Resident Assistant," he said.
Which brings us to how Porter Hall got its name. An influx of students his senior year necessitated opening an idle residence hall and Craig was the R/A. Most residence halls during that time were named by students. "At our first dorm meeting, it came down to "Frontier" and Sunset Hall. I think they picked Sunset Hall. One of the students got up and said, "I'd just as soon call it Porter Hall." The vote was taken, and today it bears his name.
Craig is thankful to the University for his education inside the classroom and out, and is humbled by today's alumni award.
He is the father of four grown children, and a grandfather to three.
Curt Weber, '80
Curt Weber's interest in agriculture and football brought him to Southwest Minnesota State University.
Curt grew up in Lake Benton and won a pair of nine-man state championships with the Bobcats as a prep. He knew he wanted to do something related to agriculture as a profession, so he enrolled and earned an Agribusiness degree in 1980.
He played four years as a running back for the Mustangs under coaches Mike Sterner and Lew Shaver.
Today Curt, two partners and their sons own a number of John Deere dealerships under the name Midwest Machinery. Their first dealership was in Glenwood, where he lives today. There are 12 other dealerships, all located in Minnesota, in about a 100-mile radius of St. Cloud.
Upon graduation, he went to work at the John Deere dealership in Tyler. During that time, the dealership in Glenwood came up for sale. The owner of the Tyler dealership, along with Curt, bought the one in Glenwood, and Curt moved there to manage the dealership.
Curt was brought up on a farm, a grain and stock cow operation, and SMSU was a good fit for him immediately. And while an ag career after college was important to him, participating in football was, too. "We took our lumps during those years," he said.
Curt met his wife, Angie Homan, when the two took a dance class together. Angie was an elementary school teacher who began her career in Tyler. They would move to Glenwood, which is where she has continued her teaching at what is now called Minnewaska. "If anyone should get an award, it should be her, for being such a great kindergarten teacher," he said.
Curt has many great memories of his time at SMSU, memories that are as very vivid. "I really liked everything about SMSU," he said. "The facilities were nice. We had a nice student body. The professors were all great. I enjoyed the dorms, and liked the food. Coming from a small town, I had nothing to compare it to. It was my first time away from home, so you had to figure out how to live on your own, what you could get away with, and not get away with."
His SMSU experience is where he met lifelong friends, his future wife, and laid the business foundation which has served him well over the years.
Curt and Angie have three sons: Corey, Brian and Adam, all involved with Midwest Machinery.
Dr. Emily Deaver
Environmental Science Professor Dr. Emily Deaver has made a positive impact on the University since arriving 15 years ago.
Born in New Mexico and raised in Virginia, she made her way to SMSU in 2003 and has been a fixture ever since.
She initiated and continues to coordinate the annual Undergraduate Research Conference, which began in 2006. It began as a way for science students to display and discuss their research, and has shown continued growth ever since. Last year, the 11th annual, 285 students gave 124 poster presentations and 45 oral PowerPoint presentations. Twenty-one different academic programs from across campus participated, including 31 different faculty advisors supervising research.
Her support of undergraduate research expanded when she became one of the co-creators and council members of the Minnesota Undergraduate Scholars, a consortium of Minnesota State institutions that support research, scholarly work and creative activity of undergraduates. The first conference was held in 2012, and Emily has taken outstanding SMSU students to the event every year since.
She began the Redwood River Monitoring Project, a collaborative effort between SMSU students, and Marshall High School and Middle School students. This project tests the water of the Redwood River at 3 spots, twice a year, and involves SMSU students teaching high school students, who in turn teach junior high students about the process.
She also initiated a partnership with ADM for a DNR Adopt-a-River program in Marshall. SMSU students team with ADM to annually clean a 3-mile stretch of the river.
Most recently, she earned a Minnesota Environment and Natural Resources Trust Fund Grant which expands the Redwood River Monitoring Project to include Ag Ed students mentoring high school FFA students.
She took an unconventional road to academia, and worked for a Florida fish farming operation, an aquaculture venture in Virginia, and for a construction company before returning to school and earning her Ph.D. in pursuit of a college teaching position.
She's been interested in the environment since her school days and loves the interaction she has with her students throughout the year. She says that Environmental Science is an interdisciplinary major that includes Biology, Chemistry and Physics, in addition to Environmental Science, and that students who enjoy the outdoors are attracted to the major. "There are a huge number of options that you have with an Environmental Science major," she said.
A past winner of the Cathy Cowan Award — SMSU's most prestigious award presented at Commencement — she said she's very humbled by this alumni award. "SMSU is a very special place, with special students and welcoming, supportive colleagues," she said.
Ryan Hugh Ross, '08
It's a long way from Rock Rapids, Iowa to Cardiff, Wales. Four thousand, four hundred and thirty-six miles, to be exact.
That's a long way to travel, literally and figuratively, but it's the path Ryan Hugh Ross has taken since graduating in 2008 with degrees in Music Education and Music Performance.
Ryan is a professional opera singer living in Cardiff, Wales. His road to success has been equal parts talent, tenacity and opportunity, and he's made the most of his unique vocal gifts.
A baritone, he went on to earn a master's in Opera Performance at Cal State-Long Beach after graduating from SMSU. A professor there, recognizing his talents, suggested he apply to the Wales International Academy of Voice in Cardiff, Wales. He was one of just 20 students accepted, and studied there for two years before embarking on his freelance opera career.
He's been successful from the start, having performed in 11 countries and in the Royal Albert Hall, the Yankee Stadium of opera.
Ryan tragically lost his father early in his freshman year at SMSU and it was Music Professor Dan Rieppel who was instrumental in creating a support system that got him through that difficult personal time. "Everyone is Music was so supportive and helpful. I'm forever grateful," he said.
Today, Ryan calls his former professor "a second father" and they've remained close over ever since.
An interest in History in general and World War II in particular led to a project revolving around suppressed Jewish composers during his studies in California. That project was brought to SMSU last year in the form of the "Voices of Exile Festival," which centered on the music of the Jewish composer Julius Burger. Recently, he appeared with the Grange Park Opera in London, and performed a one-man opera, "To Himself Alone," also in London.
Ryan is married to Sian Cameron and credits the SMSU community for helping lay the foundation for his professional success. "SMSU is like an oasis on the prairie for education," he said. "It set me up for what I am now, and it's because of the faculty and staff."
Related Articles