Librarian Pam Gladis Helping to Transform McFarland Library
Published Friday, September 22, 2017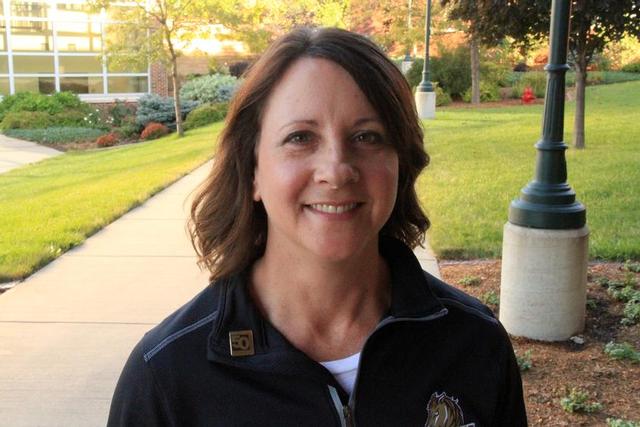 Pam Gladis
SMSU Librarian Pam Gladis likes the transformation of the SMSU McFarland Library.
Pam is a 1995 alumna of SMSU with a degree in English Literature, and a Spanish minor. She went on to earn two master's degrees — in Library and Information Science from the University of Iowa, and Educational Leadership from Minnesota State University Moorhead.
She is in her second go-around at the University. She was the distance learning librarian from 1999-2001, and returned in 2012. In between, she worked as a librarian for the Marshall Public Schools and Minnesota West Community and Technical College.
She is a believer that a library should be seen as a place. "We're making the transition in our library now," she said. "We've reconfigured a lot, so that the space meets the needs of the library users. We had an 18 percent increase in usage from last year to the previous year," she continued. "Some of that had to do with the Technology Resource Center moving into the library. We want to make a culture change in the library by rearranging space, and not 'shushing' people."
She grew up in the tiny town of Alvord, Iowa, population 200, in extreme northwest Iowa, and attended West Lyon High School. When she enrolled at SMSU, she got a work-study job in the library. "I found my passion for serving as an academic librarian," she said.
And while technology has changed the way students use the library, that can be a double-edged sword, too, she said. "Things are so much more accessible now, because so much of it has moved online," she said. "At the same time that there is this information explosion, there's also much more information to sift through. Information is easy to find, but you have to sift through and make sure it's good information. You need to evaluate the things you find online."
She assists other professors in teaching their students about how to use the library, and how to help make sure information is "good information."
Pam is the Library Department chair, "and whoever holds that position is called the University Librarian," she said. "I've got a year left on my term. I'm also a faculty member."
The SMSU McFarland Library has four full-time librarians, and Pam said "we have a phenomenal staff. It's a fun place to work and everyone is really on board with the changes we are making."
She is in charge of the Striegel Archives, on the top floor of the library, where much of the University's historical documents and other items relating to its history are housed. She has also overseen the digitalization of most of the student newspapers, and the FOCUS alumni magazines. Currently, she's in the process of digitizing a series of radio shows entitled "Southwestern Symposium." These radio interviews were conducted with individuals associated with the start-up of the University and were recorded in the mid-'60s. SMSU opened its doors in 1967.
The transformation of the library has been gradual and steady. "When this library was remodeled, it was based more on physical collections. We're moving now toward how people want to use the space, what are the needs of the students now. There's a lot of discussion about that now in library literature."
And though students grew up searching online, "that doesn't equate with being library savvy," she said. "Some students didn't come from a staffed library (in high school)."
Pam has two children, Brooklyn, 17, a junior at Marshall Senior High School, and Bellamy, an eighth grader. She said her hobbies, at this point in her life, "are chasing kids and their activities." She is married to Jeff Gladis.
Pam is the perfect example of an SMSU employee who wants to assist students in any way she can. Be being in a position to transform the SMSU McFarland Library, she is doing that, every day, in ways that are obvious, and subtle.
Related Articles