Sculpture Honors Memory of Maren Larson
Published
Friday, September 29, 2017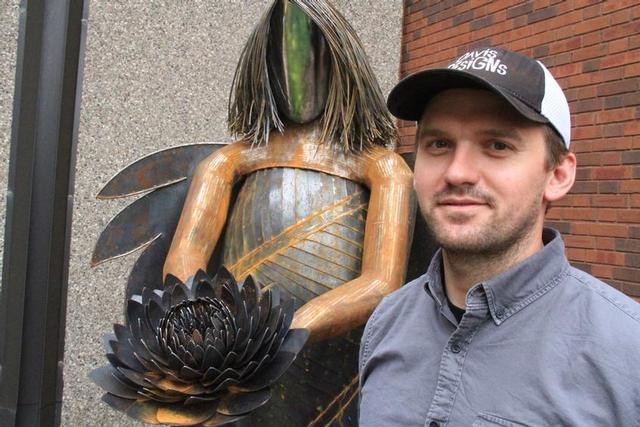 Artist Brock Davis
It's only fitting that a woman who had a nurturing profession would also have a nurturing hobby.
Maren Larson, a nurse and for 38 years the Health Services Director at Southwest Minnesota State University, passed away on April 25, 2017 at the age of 71. A sculpture in her honor, "Maren's Angel," was put in place on campus earlier this week in her memory.
The sculpture is by Fargo, N.D., artist Brock Davis, who was approached by Maren's daughter-in-law, Beth Larson. She is married to Maren's son, Scott.
"She went so fast, it was such a shock to everyone," said Beth. "I wanted there to be something that would last forever in her memory. We're very proud of her work at SMSU, it was the highlight of her life."
The sculpture is made of steel, and the face of the angel is made of shiny stainless steel, so that it will reflect the flowers that surround it in years to come.
"Beth and I sat down and she told me Maren's story," said the sculptor. "There's a cross at the base, representing a (vintage) nurse's cap. She is holding a flower, and there's flowers growing up from the base. The wings are those of an angel, and the wings are also on the international nursing emblem, as well."
The sculpture sits near the outside entrance into the Bellows-Charter Hall link. A cement pad was put down, and the sculpture bolted to that pad earlier this week. It will be further landscaped around the piece.
Beth Larson's daughter, Emily, is a graphic designer for Bernard Group in Eden Prairie, Minn. She gave Davis a rough sketch of her vision of the piece, and he took it from there.
Maren was a Master Gardener and initiated the Campus Beautification Project. She established The Gardens area on campus. A dedicated group of gardeners would tend to the gardens regularly and helped make SMSU one of the most beautiful campuses within the Minnesota State system.
Maren retired in 2012. She and her husband Dennis moved to a lake home in Glenwood.
Davis moved to Fargo in 2015 from Dickinson, N.D., and recently started Davis Design. Originally a welder, he decided to test his artistic side a couple of years ago, "and it's been going really good. Fargo is an awesome art community."
Davis said he used 920 feet of eighth-inch steel rod in the seven-foot "Maren's Angel."
The sculpture is a fitting tribute to a beloved member of the University community, who gave so much of herself in a nurturing manner.