'How to Talk Minnesotan: The Musical' Comes to SMSU MainStage
Published Wednesday, October 04, 2017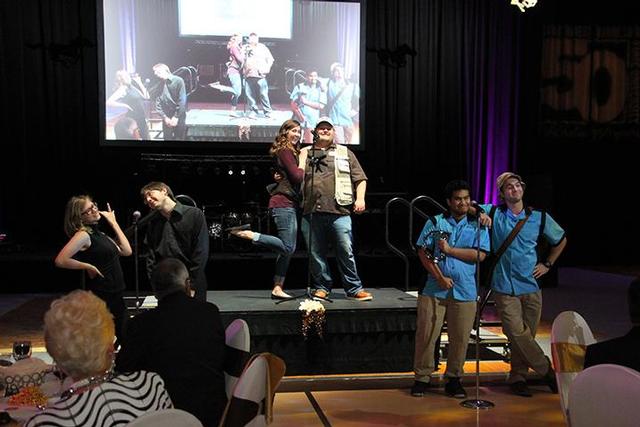 A scene from the play being performed at the University Gala
The opening show of SMSU Theatre's 50th anniversary season is the audience favorite, How to Talk Minnesotan: The Musical, by Howard Mohr, a former writer for A Prairie Home Companion and former SMSU faculty member, and based on his popular book of the same name.
Performances are October 19-21 and 26-28 at 7:30 pm and October 29 at 2:00 pm. Dinner theatre is available for the October 21 and 28 performances. Show tickets are $10 and are available at www.SMSUtickets.com, with limited tickets available at the door. All performances are in the SMSU Fine Arts Theatre, with free parking available in lot B-1. The performance on Thursday, October 19 is free to SMSU students with a valid student ID.
How to Talk Minnesotan: The Musical features Ed and Lucy Humde and their friends up at the Lost Walleye Lodge, presenting a series of lessons and songs on the fine art of living and talking Minnesotan. Even if you've lived in Minnesota all your life, you can pick up some handy tips on the positive power of the negative, how to accept food on the third offer, the basic uses of "You bet," "Whatever," and "That's different," and the perfect recipe via the song "Hotdish Hallelujah." How to Talk Minnesotan features music by Drew Jansen and lyrics by Jansen and Mohr.
How to Talk Minnesotan is directed by Assistant Professor of Theatre and SMSU Theatre Arts alumnus Mike Lenz of Cottonwood, Minn., who is also the scenic and lighting designer and technical director. Professor of Theatre Sheila Tabaka of Marshall, Minn., is the costume designer. Cat (Caitlin) Schmidt, a sophomore Theatre Arts major from Gaylord, Minn., is the stage manager. Professor of Theatre Nadine Purvis Schmidt of Estelline, S.D., is the producer. The cast and major crew include:
Morgan Benson, a senior Theatre Arts major from Tracy, Minn., as Lucy Humde. Benson is also the Publicity Manager.
Danny McDonnell, a junior Theatre Arts and Elementary Education double major from Jordan, Minn., as Ed Humde
Paul Ragan, a junior History and Secondary Education major and Theatre minor from Fosston, Minn., as Miller Johnson
Raxson Rax, a sophomore Theatre Arts major from Milan, Minn., as Donny
Dean Zinda, a junior Culinology & Hospitality Management double major from Oak Creek, Wis., as Russ Renner
Elizabeth Zoya, a freshman Theatre Arts major from Maplewood, Minn., as Darlene Humde
Whittney McCamish, a sophomore History major and Theatre Arts minor from Ellendale, Minn., is the assistant stage manager.
Malorie Hudson, a junior Early Childhood Education major and Theatre Arts minor from Rochester, Minn., is the house manager.
The dinner theatre available on October 21 and 28 is an add-on option for $22 (for a total price of $32 for dinner and the show), and must be booked by the Monday prior. The dinner features a Minnesota-themed menu created and prepared by the SMSU Student Hospitality Opportunities (SHO) Club: fried pickles with variety of sauces, wild rice tater tot hotdish (vegetarian version available), and blueberry tart with vanilla cream. Dinner seating will be 5:45-6:15 p.m. in Individualized Learning 116, the Culinology/Hospitality Restaurant.
How to Talk Minnesotan: The Musical is produced by special arrangement with Troupe America Inc., the theatre company that originated the production and performed it at SMSU back in 1998. For more information, please call the Theatre Office at (507) 537-7103. 
Related Articles