Honors Lounge is Now Curtler Honors Lounge
Published
Thursday, October 19, 2017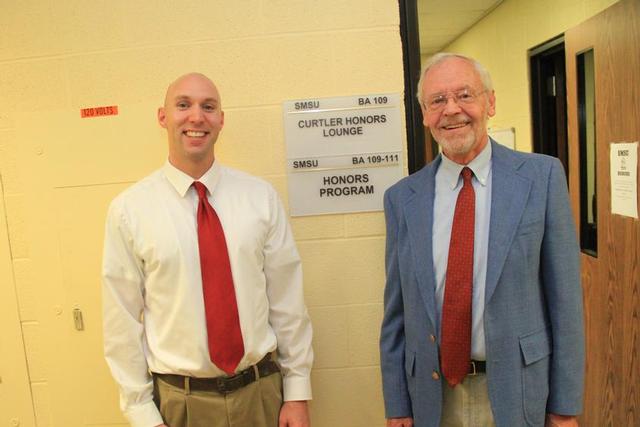 Dr. Hugh Curtler, right, and Dr. Brett Gaul
"You usually have to die for something like this to happen," quipped Hugh Curtler, retired Philosophy professor and the founding director of the Honors Program.
He was referring to the re-naming of the Honors Lounge in his honor. His former student, Philosophy Professor Dr. Brett Gaul, is now the Honors Program director, and initiated the changing of the name. The Curter Honors Lounge — located in BA 109 — was unveiled on Oct. 18.
Curtler was the first Honors Program director, a role he enjoyed for "about 25 years" before his retirement in 2009.
"I got the idea in the early '70s," he said. "The Honors Program draws top students, and they don't need some courses," he said. "It allows the students to design their own Liberal Education Core (LEC) courses."
 The program leads to the Honors Senior Seminar, where a number of books are read and discussed throughout the academic year.
"My job was to direct the conversation. Sometimes I'd come into the room and they were deep into it, so I just listened. The students knew each other from having been in the Honors Program together for several years, so they felt comfortable with one another and there was great discussion."
His two sons, Hugh and Rudy, were both Honors Program participants, and they both graduated in 1991. "As the head of Honors, I read their names at commencement," said Curtler. "It is one of the highlights of my life."
Gaul was an Honors Program student under Curtler and if it weren't for him, Gaul said, he wouldn't be at SMSU today. "He asked me, 'If you could do anything you wanted, what would you do?' I told him I'd study more Philosophy. He told me, 'Maybe that's what you should do.'"
That led Gaul to pursue his dream, which has taken him full circle back to SMSU as a Professor of Philosophy and Honors Program director.
"I owe so much to Hugh. This is just a way to recognize all that he has done for the Honors Program, and the University," said Gaul.