SMSU Students Enjoyed Political Internships
Published
Thursday, October 19, 2017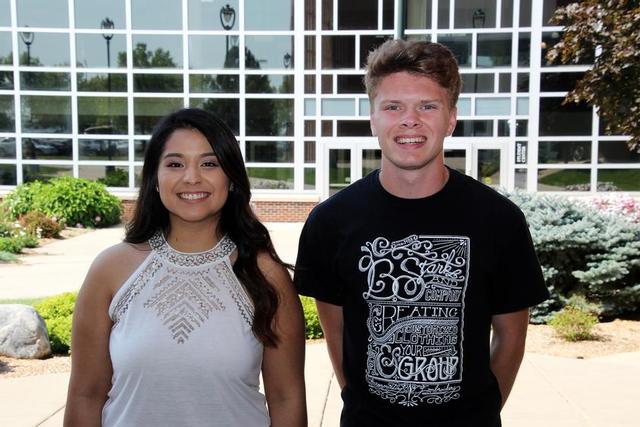 Two SMSU students spent the summer as interns for high profile Minnesota politicians. Marlen Cervantes, a junior Public Relations major with a Political Science minor, interned for U.S. Senator Al Franken. Ben Broze, a junior Professional Writing and Communications major with a Political Science minor, was an intern for Minnesota Governor Mark Dayton.
Both students were in the audience when Hannah Hankins, former Communications Director and Senior Policy Advisor for the Domestic Policy Council in the Obama Administration, spoke at SMSU in February 2017.
"She was an example of the crossroad between my passions for politics and communication," Cervantes said. "Her talk opened the idea of political communication as a career option."
The two spoke with Hankins after the presentation, and she advised them to apply for as many opportunities in politics as possible. The efforts paid off for both Cervantes and Broze.
As an intern for Senator Franken, Cervantes was assigned to the scheduling team. She assisted with administrative duties in Franken's St. Paul office, including answering phone calls from constituents, entering data and responding to scheduling requests. Cervantes attended meetings with the chief of staff and other directors to brainstorm scheduling logistics.
"I was also able to 'staff the senator' at some of his events, including a Latino outreach roundtable and a meeting with the Minnesota Department of Education and Immigration," she said.
For Cervantes, the internship reinforced her interest in political communication and opened a wealth of opportunities. She will be applying for internships in Washington, D.C. next summer, with hopes to gain experience in public policy. Her career interests include working as a legislative aide or advisor, and potentially pursuing a law degree.
"Professor Ben Walker and Professor Rick Herder, separately, sent me information about the internship," Marlen said. "I'm pretty open about my beliefs in class, so they knew my interests."
The daughter of Amparo Cervantes, her interest in politics was sparked as a middle schooler growing up in Marshall. "Diversity has increased over the years, and as an immigrant myself, I always wanted to be involved and make a change," she said. "I remember sitting in Mrs. Deutz' classroom and watching Barack Obama's inauguration in 2008. Seeing a person of color take on such a powerful leadership role was a visual representation that it is possible for anyone to have an impact."
Ben Broze is a native of North Mankato, Minn., and the son of Joe Broze and Maureen Gustafson. Broze has numerous political connections in his family. He is the great-nephew of Russ Stanton, an SMSU alumnus who was involved in politics during his undergraduate years in Marshall, including a term on the Marshall City Council. His mother helped found MN Works, an organization that helps special-needs individuals ­— like Ben's sister, Emily, who has Downs Syndrome — to find jobs.
"I believe honest, hardworking people can make a difference in politics," Broze said. "I want to help make a difference for people and communities."
Broze was one of seven interns assigned to the Dayton's communications team, where he worked with the press secretary and communications advisor on media monitoring. "We kept an eye on how the governor's messages and actions were being received," he said. "I did a lot of writing and communication work, along with creating content and posting it online." He attended press conferences to take notes and record audio, where he saw reporters from KARE 11 and the Pioneer Press.
"I loved the atmosphere," he said, "walking up the Capitol steps to get to work was surreal."
He was surprised to see a young and diverse group of employees in the governor's office. "I was from the most rural university, and because of that I brought in different perspectives, even though I grew up in Mankato. SMSU has a good diversity of different viewpoints, and that helped going into the office. I was challenged on political ideas I have and learned from others' opinions, as well."
Broze is a runner for the SMSU cross country and track and field teams. "There weren't many student-athletes as interns," he said, "but it was helpful to have the background of balancing academics with athletics."
The experience as an intern in Governor Dayton's office will affect Broze's approach to his college experience. "I hope to write more for the Spur and focus on blogging and internet content," he said. "In my classes, I'll be choosing topics where I can apply my skills to local or state government. I also plan to continue my current involvement with Enactus, Student Senate, work-study in the Admissions Office and athletics."
His future plans include working in state or local government, potentially as a communications advisor or press secretary. "I want to be in a position to help people achieve, whether that is finding work for people with special needs, ensuring voting rights, expanding education opportunities, or building connections between rural and urban districts," he said. 
What would they say to students interested in getting into politics?
"Look online for ways to get involved, and apply for as many as you can," Broze said. "Look for groups that match your interests and for opportunities to work hands-on in your field, whether it's volunteering, part-time work or internships."
"Just show up! And network, it's all about networking," Cervantes added. "Let people know what you want, and don't ever think you're unqualified."