SMSU Hosts November Board of Trustees Meeting
Published Tuesday, November 14, 2017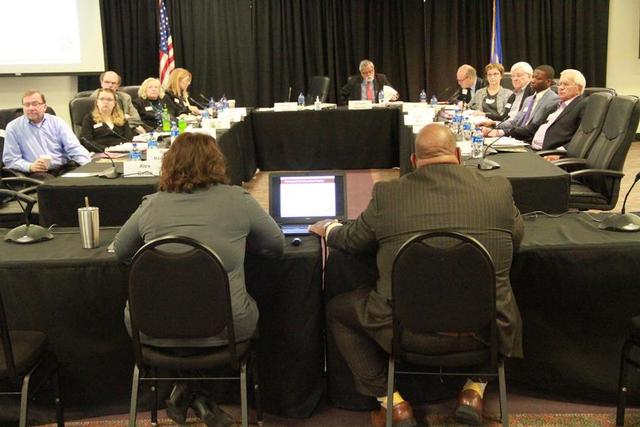 Minnesota State Colleges and Universities Board of Trustees meeting
Minnesota State Chancellor Devinder Malhotra believes the Minnesota State post-secondary system which he heads does a good job of "providing an outstanding education at affordable rates."
Malhotra was on the campus of Southwest Minnesota State University for the November meeting of the Minnesota State Colleges and Universities Board of Trustees. It marks the first time the full board has met outside of the metro area.
"Coming here is intentional and by design," he said. "The board fully recognizes the broad range of institutions we have in the system and we want to schedule these meetings (outside of the metro area) at least twice a year," he said.
"It's a big, complex system," he added. "We consist of 30 colleges and seven universities and have 54 campuses throughout the state. We enroll over 250,000 students, and have an additional 120,000 enrolled in continuing education, continuing training and certificate programs. We are a diverse system — we have over 63,000 students of color or Native students, and over 50,000 first-generation students. Our colleges and universities are places of hope and opportunity."
Minnesota State is the largest educational system in the state and the fourth-largest in the nation.
"All regions of the state are important to us," he said. "Southwest Minnesota has a large ag base," he said. "SMSU and Minnesota West and its five campus are institutions that provide social, cultural and intellection capital this region needs."
Devinder said he's been on 52 of the 54 campuses since April and is "struck by the transformational power of our institutions. Our colleges and universities provide greater access to education from the lowest 20 percent of family incomes, and I'd venture an educated guess that an overwhelming number, when they graduate, move into the top 20 percent of income."
Devinder said his travels have given him clarity, also. "It's brought home to me the true purpose of our calling and that is rid higher education of its elitist and insular character."
"We're happy to have the opportunity to host the Board of Trustees," said SMSU President Dr. Connie J. Gores. "It's an opportunity to show the Board what a special place SMSU is as we celebrate our 50th anniversary."
Related Articles