Loft, Athletic Department Face Busy Few Days
Published
Tuesday, November 28, 2017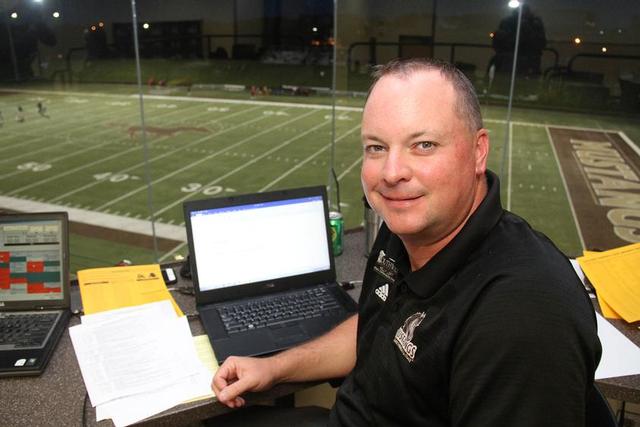 Kelly Loft
A few months ago, Athletic Communications Director Kelly Loft knew it was a possibility.
"I looked at the calendar, the dates, and figured it could happen," he said.
That foresight put into play some pre-planning that will come in handy this coming Thursday through Saturday, Nov. 30 through Dec. 2, when SMSU hosts the NCAA Central Region Volleyball Tournament.
Loft is a 1997 alumnus who earned both an undergraduate and master's degrees from SMSU. His office began preparing in earnest for the regional when, on Nov. 20, the NCAA announced that SMSU would be the host school. "We started work right away on the tournament manuals, a 30-page document," he said.
The NCAA has certain rules relating to the hosting of a regional tournament. For instance, sponsorship signage must be covered up for the three days, and the blue, circular NCAA logo displayed prominently.
Loft wants to take it further, though.
"They (the NCAA) have things structured — practice times, game management scripts, protocol, things like that. Even though we are the host site, it's looked at as a neutral site. We are going above and beyond as far as signage, we'll have team logos and banners we'll display. We want to make a great environment for the student-athletes and those associated with the competing teams. It's a big deal qualifying for this tournament, and we want that reflected in the way they are treated."
Competing teams include top-seeded SMSU, along with NSIC members Concordia-St. Paul, Northern State and Minnesota-Duluth, and Arkansas Tech, Central Oklahoma, Nebraska Kearney and Missouri Western State.
Taking care of the details surrounding that event would be daunting enough. But wait. There's more. The Mustangs' men's and women's basketball teams host Upper Iowa and Winona State on Friday and Saturday, Dec. 1 and 2. That leaves the Athletic Department stretched even thinner, and the reason for Loft's initial concern a couple of months ago when it became apparent SMSU could host the event.
"We love it," said Loft. "It's going to be a busy place, with volleyball and men's and women's basketball going on. It's a great way to show off the university and the community.
"The volleyball team deserves to host the tournament; they worked hard to earn that top seed. All eight teams worked hard to get here, and we want to make it an experience for them like no other. They deserve to be treated in a special way."
To accommodate Mustang volleyball fans, the women's-men's basketball doubleheader on Friday, Dec. 1 has been moved to 4 and 6 p.m. The Saturday, Dec. 2 start times will remain 5 and 7 p.m.
The volleyball team plays its first-round match Thursday, Nov. 30 at 7:30 p.m. If the Mustangs win that, they play in the semifinals at 7:30 p.m. on Friday, Dec. 1. The championship is at 3 p.m. on Saturday, Dec. 2.
A week removed from Thanksgiving, that gives Mustang fans a potential feast of basketball and volleyball action.
This will be the sixth regional tournament SMSU has hosted: one in golf, two in wrestling, one in men's basketball and two in volleyball.
A special web page has been created that will have everything you could possibly want to know about the regional tournament: www.smsumustangs.com/ncaavb. Live streaming of SMSU matches will be off of that page, information on each team, Live Stats, etc.
Loft and his wife Kari (Nelsen, a '96 alumna) are the parents of two children, Dillon, 15, a sophomore at Marshall High School, and Regan, 12, a seventh-grader at Marshall Middle School.
He is the president of the Marshall Baseball Association, and just recently completed a term on the Marshall Area Hockey Association board. He is a past Marshall Golf Club board member.
Loft has seen many athletic highlights during his 20 years on the job, but few more hectic days than the Athletic Department will encounter Nov. 30-Dec. 2.