So Determined to Come to SMSU, She Rode Her Horse
Published Monday, December 04, 2017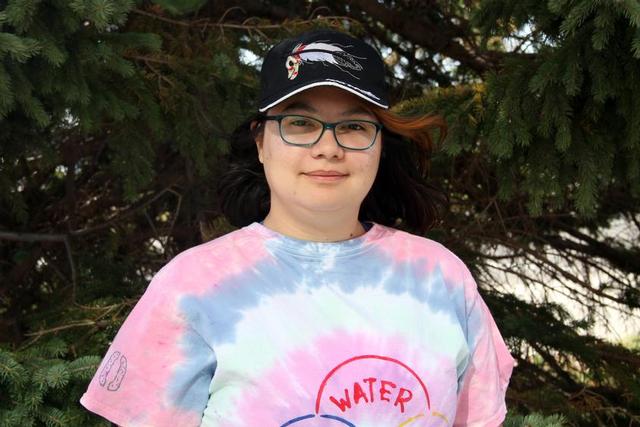 Antoinette Fox-Zachar
Not every Southwest Minnesota State University student rides horseback for two days and a night to get to Marshall, but that's exactly what Antoinette Fox-Zachar has done, more than once.
Home for the first-year Art Education major is the Standing Rock Indian Reservation on the border of western North and South Dakota. She is the daughter of Michelle Zachar and Matthew Fox and part of the Lakota Standing Rock tribe.
"As we were about to leave to drive to Marshall and drop me off at school, our car broke down," she explained. "My cousin, Paul, was looking around and saw the horses. He said, 'I have an idea…' so we did it!"
The two decided to ride to Marshall; Antoinette on her dad's horse, NightWing, and Paul on his mustang, Kicker. They got out a road map and plotted their course ahead of time because they knew cell phone reception would be spotty. They marked public lands along the way so they could camp for the night, and tried to ride along backroads as much as possible. "NightWing doesn't like loud noises," she said.
Antoinette's college supplies were packed across the horses' backs along with blankets and tents. She brought a giant jug of water for NightWing and a feeding bag that goes around his neck. "We stopped for apples at farmer's markets or grocery stores too," she said.
Antoinette rides NightWing bareback, with only a rope around the 10-year-old gelding's head. "You lean to one side or the other to steer, and rub his neck to go faster. NightWing doesn't like people, but he puts up with me," she said. "You have to keep squeezing him with your legs to stay on, but make sure not to squeeze too hard."
The travelers arrived in Marshall the evening of the second day. Paul camped with the horses near Marshall for the night, then herded NightWing back home to Standing Rock.
The two repeated the trip for fall break in early October.
Standing Rock to Marshall wasn't her first long-distance trip. Antoinette has ridden to Pipestone, Minn., before and took a two-month trip to Montana for fun during the summer of 2014.
Her favorite part of the trips is sitting around the campfire as the sun goes down.
"NightWing is protective, he keeps bumping my head during the night. He either stands and sleeps or circles the camp. He doesn't go out of sight," she said. "My family has always had a close connection with horses."
Antoinette is the first in her family to complete high school and attend college. She is enjoying college life at SMSU, and says it's a bonus that the University mascot is a Mustang. "SMSU is very diverse," she said. She's diving into the college experience and is involved with Oyate Club, women's rugby and AOS.
Antoinette is a true example of the Mustang spirit and we are glad she is part of the Mustang Family!
Related Articles