Minnesota State System Recognizes Deb Kerkaert for Outstanding Work
Published
Friday, December 08, 2017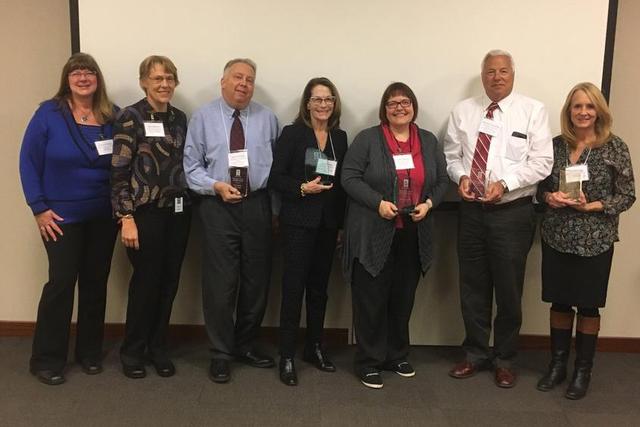 Deb Kerkaert is shown at right with other award winners
Deb Kerkaert, Vice President for Finance & Administration at Southwest Minnesota State University, was honored for exceptional work at the 2017 CFO Finance Conference held recently at the Minnesota State system office in St. Paul, Minn.
Kerkaert was honored with the Chancellor's Award, which recognizes individuals or teams whose efforts support the Strategic Framework and result in system-wide improvements in financial management, services, or processes.
Award criteria focus on innovation, collaboration and new work that is above and beyond regular duties.
Kerkaert received the award as part of the 2017 Allocation Framework Technical Advisory Team, in recognition of the redesign recommendations which it presented to the Board of Trustees. The recommendations were subsequently approved by the board.
"Their work was informed by a very extensive consultation process and campus outreach effort, and the changes were implemented with the 2018 allocations to be effective July, 2017," said Laura King, Vice Chancellor and Chief Financial Officer of the Minnesota State system. "The changes brought clarity to the methodology and incentives that will aid all of us as we work to serve students across the state."
Other members of the honored advisory team included Karen Kedrowski, Vice President at the Northeast Higher Education District; Lori Kloos, Vice President at St. Cloud Technical and Community College (now serving as interim president); Mike Kroening, Vice President at Minnesota State College Southeast; Steve Schmall, Vice President at Rochester Community and Technical College;  Rick Straka, Vice President at Minnesota State University Mankato; Lisa Wheeler, Vice President at Normandale Community College; and Susan Anderson, Associate Director in Financial Planning and Analysis at the system office.
An SMSU alumna, Kerkaert has been employed at SMSU since 1990 and has served as Vice President for Finance and Administration since 2010.
Minnesota State includes 30 community and technical colleges and seven state universities serving approximately 375,000 students. It is the fourth-largest system of two-year colleges and four-year universities in the United States.