SMSU Alumna Diede Wins Prestigious Teaching Award
Published Thursday, January 18, 2018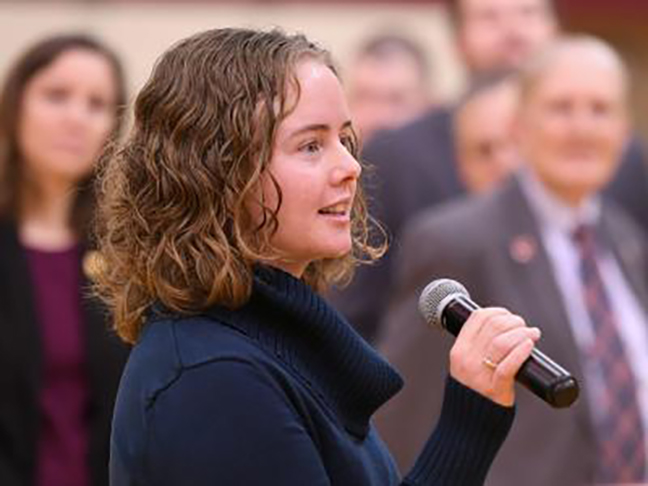 Carla Diede
SMSU alumna Carla Diede thought it was just going to be a regular assembly at Harrisburg (S.D.) South Middle School. Little did she know that she would be presented with a $25,000 check for being selected a Milken Educator Award winner.
On hand to make the recent presentation were Don Kinkegaard, South Dakota Secretary of Education, and Greg Gallagher, Milken Family Foundation senior program administrator.
The prestigious national award has been called by Teacher magazine the "Oscar" of teaching.
She is the only winner from South Dakota, and just one of 44 selected from across the nation.
Diede earned her Master's in Education from SMSU in 2011. She received her undergraduate degree in math, with an education specialization, from SDSU.
The money is hers to do with what she wants. "I really haven't decided what to do with it. We're still talking about that," she said.
Diede is a leader and innovator within her school. In the mornings she is a personalized learning coach working with sixth- and seventh-grade students and their teachers to create customized, individual learning plans. She coordinates lesson plans with teachers and tracks student learning, modifying school curriculum when needed to address gaps based on her analysis of student data.
She helps teachers set self-paced schedules for these learners and pulls students into one-on-one settings or small groups for additional support. She also helps students who are behind on their work and those struggling to meet the standards set for in the school's standards-based grading model.
In addition, she meets with educators from other schools when they come to observe the personalized learning program, and she has made many presentations about the program at teacher in-services and various state and regional conferences.
In the afternoons, she teaches math classes.
She lives in Sioux Falls with her husband, Christopher, and children, Zander, 6, and Eleanor, 5. SMSU's master's in Education was being offered in Sioux Falls, and she thought it might be a good time to get her degree.
"A fellow colleague introduced me to the learning community," she said. "At that time, I wasn't sure I could handle it. It was awesome. They brought it to us on weekends, I appreciated that. I was able to apply what I learned in the classroom. My professors were amazing. They said 'trust the process' and that's what I did."
The personalized learning at Harrisburg was an idea borrowed from the Chaska, Minn., district, said Diede. "It started when we visited Chaska. We saw what they were doing at a conference and latched onto the idea and thought it could be a good fit for us. After that we did some research and we've had our own program the last two years."
As a result of the honor, Diede will be able to attend a Milken Educator Forum in Washington, D.C., on March 20-23, where she will have the opportunity to network with her new colleagues and hear state and federal officials discuss maximizing their leadership roles to advance educator effectiveness.
"I'm just so surprised and humbled by the award," she said.
Related Articles