Student Body President Danielson Masters Time Management
Published Thursday, January 18, 2018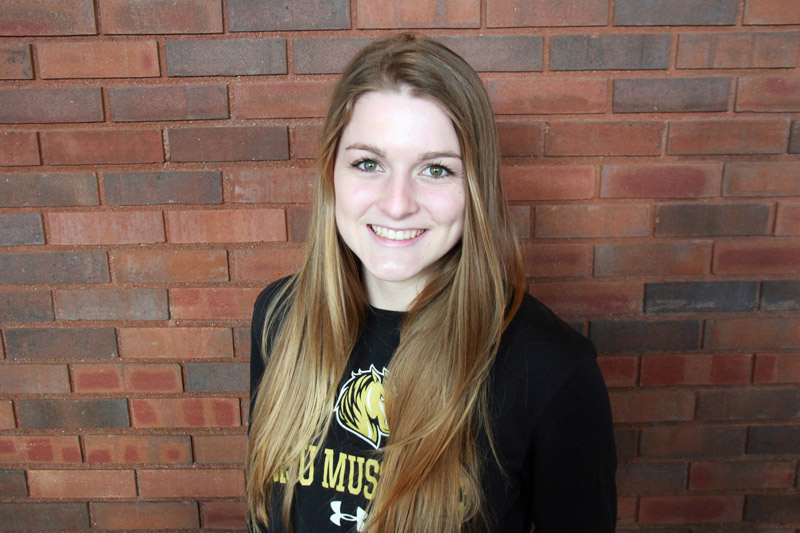 Rebekah Danielson
Rebekah Danielson, the president of the Student Association at Southwest Minnesota State University, has perfected the art of time management.
It's something she learned when she first enrolled at SMSU, and something she's refined, out of necessity. "I have it down to the minute," she said.
Danielson, besides being the student body president, is also the president of Enactus (formerly called Students In Free Enterprise, SIFE), one of the most active clubs on campus with an emphasis on free enterprise. The group has had a long run of winning the regional Enactus competition and advancing to the national event.
Danielson is from Roseau, a northern Minnesota community of 2,800 just a few miles from the Canadian border and Lake of the Woods. She is a Finance and Supply Chain Management major who found out about SMSU at a college fair. "What interested me was the fact it was inexpensive, and I could receive several scholarships. I also liked the community feel of it."
Danielson can drive the 410 miles to her hometown "in seven hours, on a good day," she said. She has gone through her college career quickly — in three-and-a-half years. "I'll walk (at commencement) in May. I have just an internship then in the fall. I'll be working with corporate financial planning and analytics with Hershey's in Pennsylvania."
She was a senator for a year-and-a-half and was encouraged to run for student body president by her predecessor, Ashanti Payne. "He was a good mentor to me during that time," she said.
What does she like about her current position in student government? "I like taking students' needs and wants and opinions and putting them into action steps. I like change, it's good, and change is needed in everything — it's inevitable, and I think institutions are behind in that."
Her priorities this year include improving the Student Association website to "be more competitive with other universities;" working with faculty and library and Barnes & Noble personnel on textbook affordability; working to create "interactive diversity and inclusion — bring it to life with hands-on learning experiences" — and pushing for a new weight room and fitness center.
There are 21 senate positions within student government, "and we have 21, we're full," she said. "We get a lot of (student) voting, it's increasing," she said. "And I think almost everyone here knows someone who is a senator, it's a very diverse and eclectic group."
Danielson said her SMSU experience has met and exceeded her expectations. "When I came to SMSU, I thought I'd be able to become involved and be a leader. I didn't know what to expect, and now, thinking back, it kind of blows me away."
A routine day this semester means she's at the university at 5 a.m., and leaves for her off-campus home at about 9 p.m. "I have a lot of meetings and events," she said.
College years fly by, and if she could give advice to an incoming freshman, it would be this: "See how far you can go. Put yourself out there — there are things you could be doing; there's no excuses."
Advice she has followed herself.
Related Articles