Speech Center Helps Students in Many Ways
Published Friday, February 09, 2018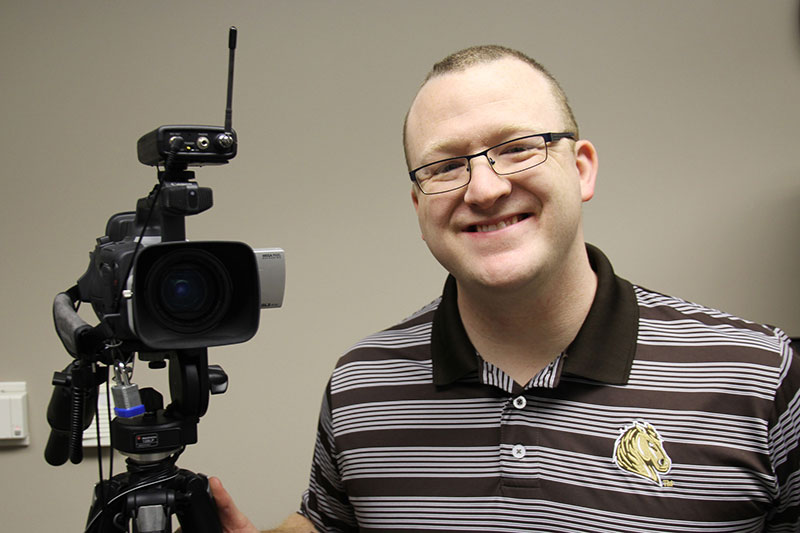 Ben Walker
Everyone can recall a time when they had a fear of public speaking. All college students are required to, at some point, give a presentation in a class. SMSU has provided a service to help ease the stress this can cause students. It is called the Speech Center and it is located on the fifth floor of the McFarland Library in BA 511 near the Writing Center.
The Speech Center offers a variety of resources for students. Students have knowledgeable staff at their disposal ready to guide them with techniques to help improve their public speaking. The room is set up to allow students to work on a computer or at a desk. Students can also practice using electronic presentation materials by using the computer, projector, and Smartboard. All students are able to practice their speeches or group presentations, using any visual aids they may have. They can record practice speeches and presentations to playback for critique of what they do well and what aspects of the presentation they need to strengthen.
Upon arriving at the Speech Center, the staff provides free tutoring for all students for any course that requires public speaking or group presentations.  The student does not need to be enrolled in a public speaking course. They can help with topic brainstorming, creating an outline, research, or delivery tips. No matter what stage students are at in preparing for a presentation, the Speech Center can help them improve.
The staff at the Speech Center consists of students selected by Communication Studies faculty. They select 2-3 students who are highly regarded for their ability to understand public speaking. This year, the staff includes three juniors: Marlen Cervantes, Laura Huebert, and Emily Williamson. Professor Benjamin Walker will also be available during certain Speech Center hours.
Walker, Assistant Professor of Communication Studies, is the new Director of the Speech Center. He shared some information about future plans for the Speech Center on campus.
"The Communication Studies program has applied for a grant to help transform the Speech Center," he said. "The grant would allow us to purchase the materials needed to make the Speech Center a place where anyone on campus (including faculty and staff) could produce videos for classes or personal use. Teachers could use it to record more engaging online lectures. Students could use it to create unique class projects or video resumes. Athletic teams could use it to help craft recruitment videos. We are hoping to really expand what the Speech Center can do for SMSU."
SMSU received an initial grant to start up the Speech Center in the fall of 2009 and opened in the spring of 2010. SMSU alumna Veronica Fischer was the very first tutor.
If any student is confused about a speech assignment or unsure how to really nail that final presentation for a capstone class, the Speech Center is the place to go for help. Students will find individual attention and guidance on how to make a presentation the best it can be. Many professors love to hear from the Speech Center that their students went to seek help to be better speakers.
Students can walk-in during regular hours or schedule an appointment by going to the website and clicking on the desired week. The link to the website is here: http://www.smsu.edu/campuslife/speechcenter/index.html.
Related Articles