Kelly Loft Chronicles Athletic History
Published Friday, March 09, 2018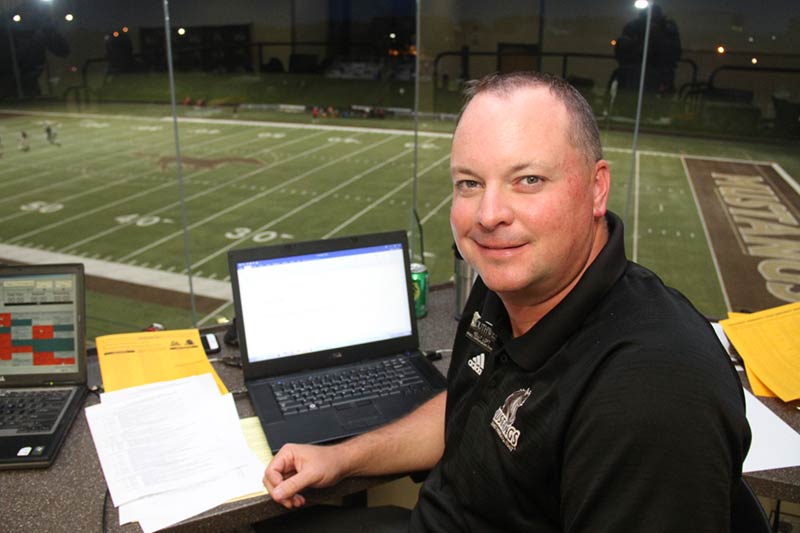 Kelly Loft
Athletic Communications Director Kelly Loft is in his 21st year with SMSU and enjoys coming to work every day.
"It's always something new," said Loft, who earned his undergraduate degree in Speech Communication: Radio/TV in 1997 and his master's in Leadership in 2011. "With each new season I have an opportunity to deal with student-athletes. I get to know them. It's fun to type up their bios when they commit to SMSU as seniors in high schools, and then watch them develop as student-athletes over the next four or five years and go out into the real world. The best part of my job is writing about their individual successes."
He became serious about his current profession when, as an SMSU student, he had an internship at Midwest Sports Chanel, now Fox Sports North. "I wanted to get into broadcasting, either television or radio," he explained. "During the internship I worked with the Twins broadcasts, with their communications staff. It seemed like an interesting business. I was looking for a job in 1997 after that internship, and I happened to come back and worked at Marshall Radio. I talked to then-Director of Athletics Butch Raymond and at that time they were looking for a sports information director. Someone had recommended me. They hired me, and here I am still today."
Loft and his graduate assistant keep track of statistics for each game/match/meet. "We have some student help on game days and some office work," he said. "Our duties have expanded since I began, with the addition of track and field and cross country." When each contest is finished, the statistics are compiled and a story written and uploaded to the website: SMSUmustangs.com.
"One thing our office takes pride in is getting those stories up on the web as soon as possible. Not every school does it, but our fans and those who follow us on social media want to know. With the advent of Twitter and Facebook, we're able to give updates during the games."
Loft has always had an interest in history and has spent many hours poring over the names and accomplishments of former athletes and teams. "(History) intrigues me," he said. "I love history of all kinds — world history, athletic history — so I read all the time. I've gone through the archives. Despite not being here for the first 30 years, I feel like I know a lot about our past."
He is well-respected within his profession and serves as the vice president of the D2 Sports Information Directors of America (CoSIDA). He is the president of the Marshall Baseball Association, and is a member of the Convention and Visitors Bureau and Amateur Sports Commission boards. He is the son of former SMSU Dean, Dr. Jan Loft.
Loft and his wife Kari (Nelsen) met at SMSU, where she was a softball player. They have two children, Dillon, 15, and Regan, 12. "We enjoy being a part of the community. We love Marshall and the university," he said.
"I'm fortunate in that I get to work in a great environment. It's a cliché, but it really is a Mustang Family."
Related Articles