Mustangs Benefit from Advanced Training Techniques
Published Friday, March 09, 2018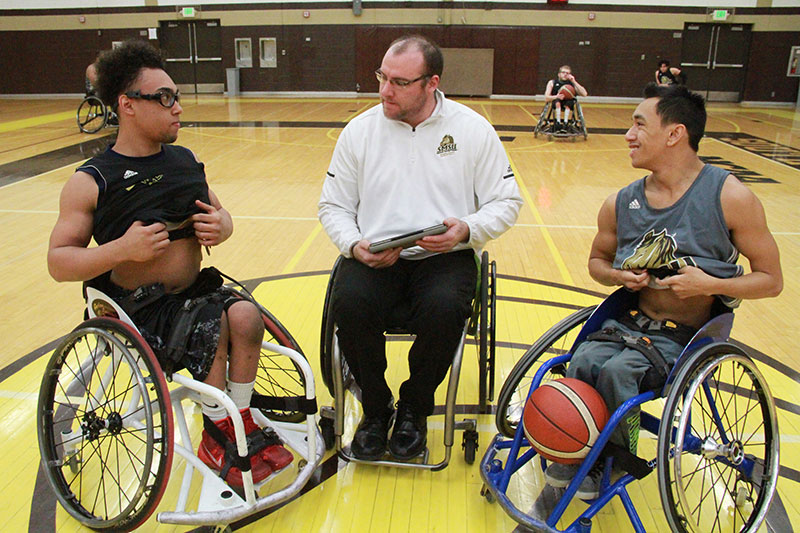 Players Ezekiel Ramudzi, left, and Nate Davis put on their heart monitors while coach Derek Klinkner prepares to have the data downloaded to his tablet.
Southwest Minnesota State University will host the National Wheelchair Intercollegiate Basketball Tournament March 15-17.
The Mustangs are the No. 6 seed in the tournament and head coach Derek Klinkner hopes his team has a good showing at the event.
"The last time we hosted was in 2010," he said. "This is my first experience with hosting a national tournament. The last time SMSU hosted the event I was playing football (prior to a tragic farm accident). It's been quite the experience. I'm really thankful for the support from the University and the community that we've had. It's been a collective effort between athletics and the University in general."
The Mustangs have been aided this year by some high-tech training techniques, a collaboration between Klinkner and Associate Professor of Exercise Science Dr. Jeffrey Bell.
In November 2017, through a grant from the SMSU Foundation, the team purchased heart-rate monitors, and Mustang players wear them during several practices per week. Data from the monitors is fed directly to a tablet, and can be analyzed by Klinkner and Bell in an effort to make the team workouts as efficient and effective as possible.
 "Monitoring their exercise intensity is difficult with the team members having diverse physical differences. We wanted to come up with a way to figure out how hard they were working," said Bell.
Bell had the wheelchair athletes undergo a VO2 Max test, which measures the maximum rate of oxygen consumption during incremental exercise. The test reflects the cardiorespiratory fitness of each athlete and helps determine each's endurance capacity during prolonged exercise.
The test is taken on a custom-made wheelchair ergometer, made by Action Trackchair in Marshall, owned by Tim and Donna Swenson, avid wheelchair basketball and university supporters.
The machine is a specially-designed treadmill for wheelchairs. "We used that on the max test and monitored their heartrate during the test. Now we know how much oxygen they are using, etc.," said Bell. "That has made it incredibly specific for every single athlete."
Bell has a doctorate in exercise physiology from Purdue University, and his thesis was "Peripheral Arterial Disease in Spinal Cord Injury." The wheelchair program, and the potential of working with the wheelchair student-athletes, is one of the reasons Bell was initially attracted to SMSU. "My research area looks at cardiovascular disease in spinal cord injuries; the wheelchair program (fits) that."
"It's really built up our athletes and helped us maintain our conditioning level," Klinkner said of the testing. "We do a 12-minute push for conditioning once a week and we want them at 90 percent (of the athletes' maximum heart rate). As they are doing that, data is fed to my tablet in real time. It's color-coded, so each athlete knows how they are doing. This really helps us in our training and understanding of conditioning."
"Someone with a maximum heart rate of 200 beats per minute, at 90 percent, that's 180 beats," explained Bell. "Someone with a maximum rate of 180, at 90 percent, that's 162 beats per minute. It may look like the person at 162 is not working as hard, but in all reality, they are. The goal is to optimize everyone's training, and to make conditioning as efficient as possible."
Bell said the testing puts SMSU at the forefront of this type of analysis of wheelchair athletes. "The cool part about the testing is that it's something you'd see at a training center for the Paralympics. You don't normally see that amount (of testing/data) except on an international level."
"We're pilot testing this year," Bell continued. "We'll do more next year, several different workouts that have different goals."
The sixth-seeded Mustangs open national tournament play Thursday, March 15 with a noon game against Wisconsin-Whitewater, the third-seed.
Related Articles