Christianson Earns 'Outstanding' Poster Award
Published Wednesday, March 28, 2018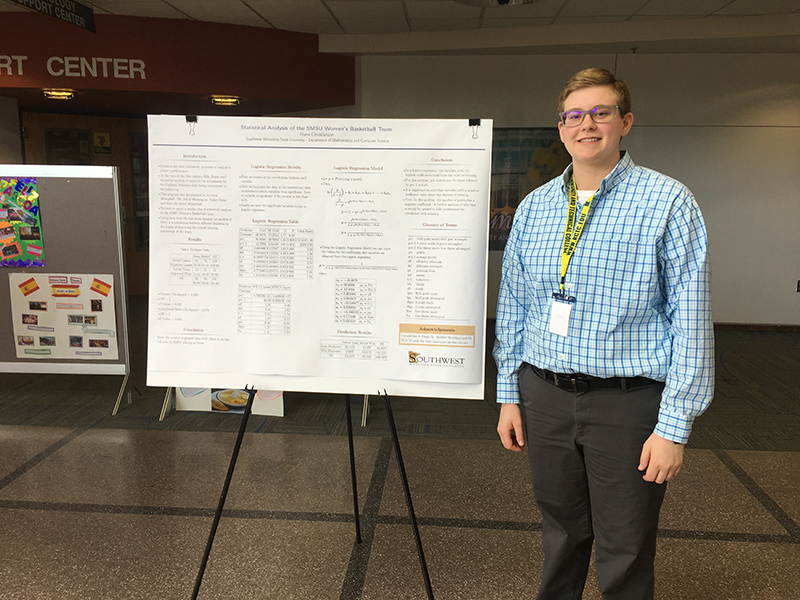 Alana Christianson
Southwest Minnesota State University senior Math major Alana Christiason earned an Outstanding Poster Award at the recent Undergraduate Scholars Conference, held at Rochester Community and Technical College.
The conference brought together outstanding students from Minnesota State colleges and universities. It was the seventh year of the conference.
Christianson's research was entitled "Statistical Analysis of the SMSU Women's Basketball Team." She also presented her research at SMSU's Undergraduate Research Conference, and at the Capitol rotunda in St. Paul, where top undergraduate students from across the Minnesota State system presented their research to legislators.
Christianson, a Brandon, S.D. native, looked at the Mustang women's basketball statistics from the 2010-11 season through the 2016-17 season. "Coach (Tom) Webb met with us and said he wanted to do a project," she said. "We set up a meeting with Professor (Heather) Moreland, and decided on the idea. Of the seven years we looked at, just one of those, 2016-17, was a team coached by coach Webb."
She plugged in the statistics for that seven-year stretch. "I took all the variables and did a correlation table, to test the correlation between each variable. It was a huge table," she explained. "I ended up with significant variables. I found a variable of a higher coefficient will contribute more to winning. The top three of those were field goal percentage, free throw percentage and steals."
Conversely, variables with a negative coefficient (example: turnovers) translate into a lower chance of winning a game.
"It was a big Excel file. The larger the data set, the more accurate you are."
Math always came easy for Christianson, who said her basketball research "has opened the door for what I am going to do in the future.
"I was in Math Education my first three years. This past year, though, I was thinking maybe teaching wasn't right for me. I'm getting my math degree, and am thinking of going to get my master's in statistics."
While math is a subject area many struggle with, it comes naturally to Christianson. "Math is just something I understand well. Before college, it was the easiest subject I had. You can use data to find out so much."
She credits Moreland and Dr. Wiji Wijesiri for their assistance and guidance in her research. "They were very helpful throughout the whole process," she said. "Dr. Wijesiri was very helpful with his statistical help."
She is a tutor in the Math Tutoring Center, and enjoys helping others reach that "aha" moment when it comes to math.
Related Articles