New English Learner Lab Available to Students
Published Wednesday, March 28, 2018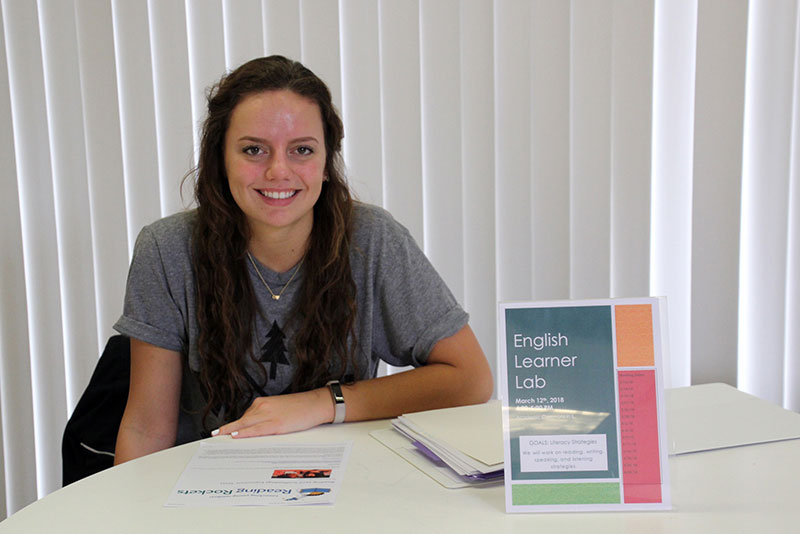 Alyssa Landwehr
There is a new English Learner Lab available for students at Southwest Minnesota State University, the result of efforts by Dr. Sonya Vierstraete and her mentor student, Alyssa Landwehr.
The lab is held from 4-5 p.m. on Mondays and Wednesdays at a study table in Academic Commons (IL 224) through the end of the spring semester. No appointment is necessary.
Students attending the labs will participate in group learning activities that help with strategies to learn English as a second language, including reading, writing, listening and speaking. Free-writing from a prompt, listening to and discussing TED talks, and impromptu speaking are examples of the activities planned. The target audience Landwehr hopes to reach are students whose native language is not English.
Landwehr, a first-year Teaching English as a Second Language (TESL) and Elementary Education double major, is the lab tutor. She is a Worthington, Minn., native and the daughter of Joe and Laurie Landwehr.
"This hasn't been done before at SMSU, but it is becoming more popular at other colleges and universities," Landwehr said.
Vierstraete, SMSU Associate Professor of Education, has been developing the lab concept for some time. When Landwehr started as a mentor student last fall, she spearheaded idea development for the lesson plans while Vierstraete assisted with finding materials. Mentor students receive a scholarship that allows them to work with departments on specific projects.
SMSU students are invited to take advantage of the opportunity to develop their English literacy skills through this new offering.
Related Articles