Culinology Teams Finish 1-2 in National Competition
Published Thursday, March 29, 2018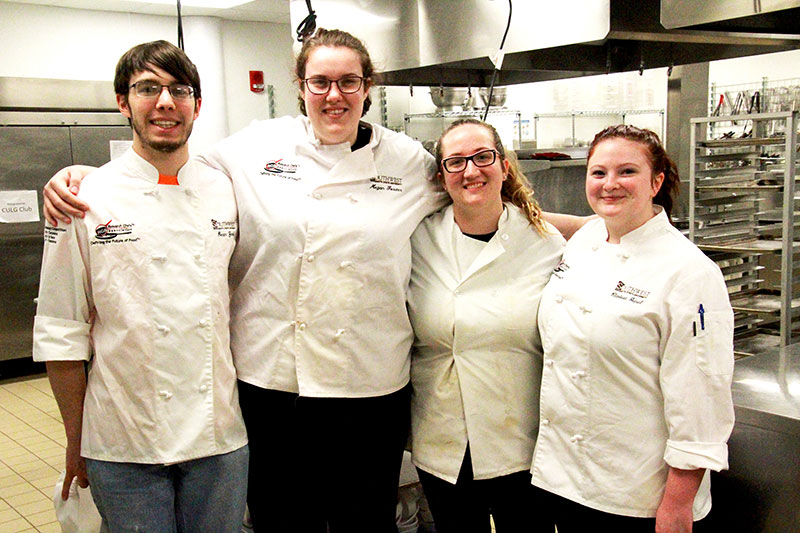 Team Flippin' Biscuits
"At the awards ceremony, they announced third-, second- and first-place winners, and they start with third. When we were named second place, there was a lot of excitement. But then when they announced us as the first-place team, too, it was like I suddenly couldn't think straight. There were some tears."
That's the way Assistant Professor of Culinology Dr. Zhenlei Xiao descried the SMSU contingent's emotions when they learned that the University's two teams placed both first and second at the Research Chefs Association Student Culinology Competition, held at the RCA Convention in Savannah, Ga.
The winning team from SMSU was Team Flippin' Biscuits, which included Dean Zinda, junior, Culinology and Hospitality Management majors, Milwaukee, Wis.; Megan Forster, senior, Culinology major, Moorhead, Minn.; Clarissa Geisel, senior, Culinology major, Eagan, Minn.; and Alexandra Froman, senior, Culinology major, Bloomington, Ill. The second-place team was Team Grits and Shrimp Fritters, and included Madison Meritt, senior, Culinology major, Hugo, Minn.; Gabby Tellijohn, senior, Culinology major, Owatonna, Minn.; Keaton Crowley, senior, Culinology major, Cincinnati, Ohio; and Jose Pedroza, senior, Culinology major, Marshall, Minn.
This year's competition theme was Cuisine of Southern Georgia: Mom and Pop Locally Owned Restaurants.
The winning team received $2,500 in cash. It marks the third time SMSU has won the competition, the others being 2011 and 2013.
The competition included two parts. The first was the proposal, which was sent to RCA, which then selected the finalists last December. Five teams were invited to the finals. The others were Guelph University, Canada, which finished third, along with the University of Minnesota and Dominican University, River Forest, Ill.
The second part was the preparation of the meal. Teams prepared and froze their meal and brought them to Georgia. They then prepared the meal, fresh, during the competition. The object was to have the frozen meal taste as close to the freshly-made "gold standard" meal as possible.
Team Flippin' Biscuits prepared a gluten-free sweet potato biscuit covered with bacon and sausage gravy and hash on top. A unique twist to the meal is that the biscuit starts out on top when it is put in the microwave, then flipped. "The judges liked that, they thought it got people involved in the meal preparation, rather just putting it in the microwave," said Xiao.
The second SMSU team prepared shrimp and grits, "a very popular meal in Georgia," said Xiao. "They added some Asian flavor — they used coconut cream instead of heavy cream for the grits, and they ground the shrimp and made it into patties," she said.
Both teams practiced twice a week heading into the competition. "They worked so hard, and the RCA competition was valuable for them. After the competition, the judges brought all the teams into a room and discussed each dish that was prepared.
"The RCA event is a nice platform for all the students in Culinology and food science to have a chance to apply what they learned. It's about food product development, which is like their future jobs. After months of hard work, they grow up a lot."
Xiao appreciates the support of team sponsors, including SMSU, Schwan's Company, Land 'O Lakes, AURI and TPI Hospitality.
Related Articles