Enactus Wins Regional Competition
Published Tuesday, April 10, 2018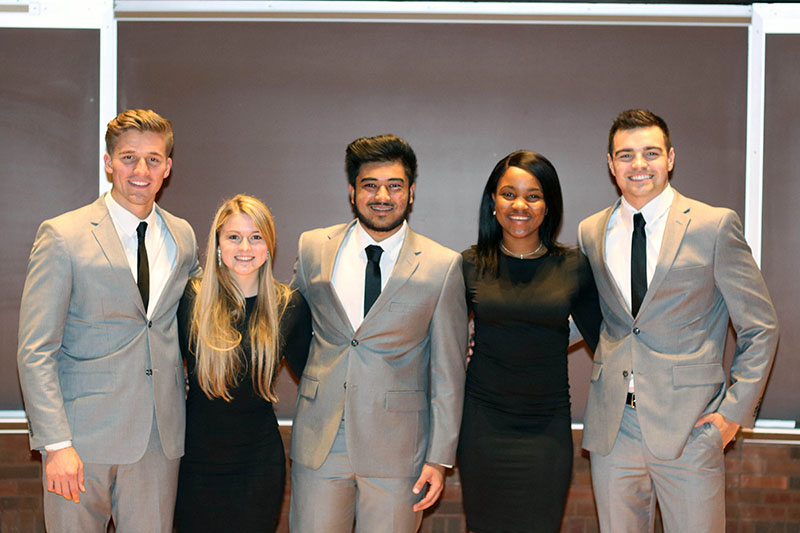 Kyle Antes, Rebekah Danielson, Vidit Doshi, Maria Baleng, Zack Majka
The SMSU Enactus club continued its dominance in the Midwest Regional competition and will advance to the national competition in May.
Enactus claimed its 15th straight Midwest Regional competition on Monday, April 9 in Chicago, Ill., and competes in the national competition May 21-22 in Kansas City, Mo.
"It was a good day for the students," said Doug Simon, Political Science Professor at SMSU and the group's Sam Walton Fellow (advisor).
The competition team included:
Kyle Antes, a senior Marketing major from Windom, Minn.
Rebekah Danielson, a senior Finance and Management double major from Roseau, Minn.
Vidit Doshi, a sophomore Computer Science major from India
Maria Baleng, a junior Management major from Marshall, Minn.
Zack Majka, a sophomore Management and Marketing double major from Batavia, Ill.
Rylee Armstrong, an Art and Marketing major from Canada.
"Riley was our technical assistant for the presentation," said Simon. "We took 20 Enactus members to the regional."
Enactus is a group that stresses entrepreneurship and free enterprise. The presentation was about a baby car seat program it led this academic year. "Our project was about trying to create efficiencies in a supply chain about how to recover used and expired children's car seats, and bringing them to a disassembly facility for recycling," said Simon.
The group placed large donation boxes for old and expired baby car seats in Marshall and other surrounding communities. "Advanced Opportunities approached us about this two years ago," said Simon. "At that time, we didn't have the capacity to do it. We revisited it this year, and the stars aligned. It is a great project for the kids, and involves business practices that are applied in a real-world setting."
The car seats were collected and taken to a collection point at the Lyon County Fairgrounds, where they were broken down, and those materials recycled. Those who broke them down were developmentally disadvantaged workers. "It's a real win-win — it diverts these seats away from the landfill, it takes expired and unsafe seats off the road and it helps financially a population that wants to work and contribute," said Simon.
The Enactus group also developed an app that allowed collection site managers to notify the group when a collection bin was full and ready for pickup.
Enactus collected 252 car seats over a two-week period, and the app "helped us create efficiencies in the supply chain," said Simon. "The margin of profit is slim, so we were trying to develop efficiencies to make it profitable. The judges loved it," he said.
Danielson said it was a satisfying win for the team. "The judges liked the fact we were able to address social, environmental and economic problems with our project, and they were also intrigued about the technology involved to keep the supply chain going efficiently," she said.
Simon said Enactus hopes to expand the program within the region in the future.
Related Articles