Jessica Bentley Honored with Professional Excellence Award
Published Thursday, April 12, 2018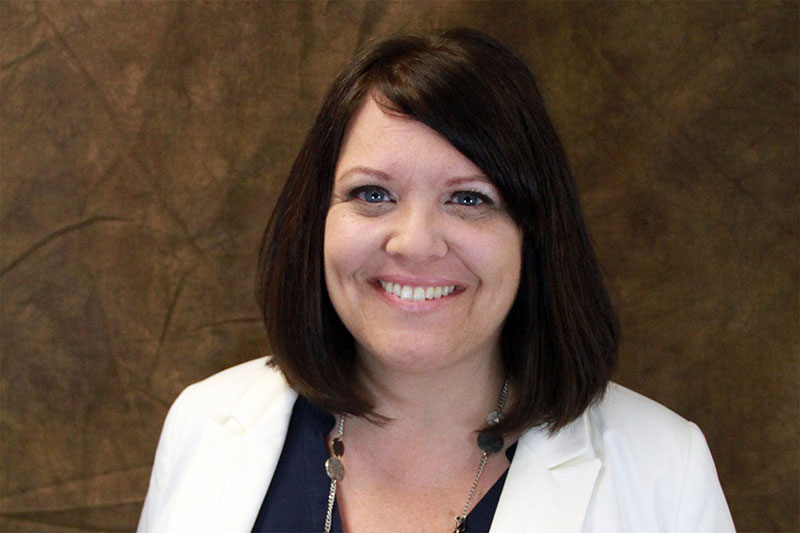 Jessica Bentley
Jessica Bentley, the Assistant Director of Residential Life at Southwest Minnesota State University, has been selected as the university's honoree for the Minnesota State Board of Trustees' Professional Excellence Award for Administrative Faculty.
She will be honored at a Minnesota State luncheon on April 18 in St. Paul.
Bentley is a Calmar, Iowa, native who earned an Exercise Science: Sports Management degree from Buena Vista University, Storm Lake, Iowa. She held several positions at Upper Iowa University, Fayette, Iowa, including Residence Life Coordinator and Director of Intramurals, before coming to SMSU in September 2002 as Area Coordinator of Residential Life. She was named Assistant Director in 2016.
As Assistant Director of Residential Life, she is on call 24/7. She wears many hats during the academic year, with one goal in mind: Making students' residential life experiences positive. She coordinates the student staff selection process; plans and coordinates the annual fall staff training; supervises, trains and advises Residence Life student staff, including resident assistants, senior resident assistants, student office managers, summer conference staff and work-study staff; coordinates summer conference and camp housing and other large-group housing; and works with Building Services and Physical Plant to maintain the quality of the residence halls.
She places a high value on customer service, "and I try my best to make sure that is instilled into our student staff, as well," she said. "The more we reach out to our residents and offer opportunities to get connected to SMSU and have them feel SMSU is where they belong, the greater the likelihood they will enjoy, and, more importantly, be successful, in their college career."
She has lived on campus since her arrival, and is close by to take care of issues, big and small, that crop up. "There's always a variety of situations. I can get called at any point in time — 3, 4 a.m. — for everything from a maintenance issue to a student in crisis," she said.
She believes that programming helps students learn outside of the classroom and has been a lead in Residential Life programming, and other events/activities offered collaboratively with other areas of campus.
She is on numerous committees on campus, and is active off campus, also, serving on the Lyon County Sexual Assault Multidisciplinary Response Team.
A former Resident Advisor, Idriss Njike, now Associate Director of Residential Life at the University of California, Los Angeles (UCLA), credits her with his professional success in the field.
"Jess encouraged me to come back as a Resident Advisor for a third consecutive year. She gave me the community no Resident Advisor wanted because it was known to have lots of issues when it came to student conduct. Not only was I upset about this selection, I was ready to quit. Jess found a way to keep me on staff and the year I thought would be the worst ever ended up being my best as a Resident Advisor. Not only was I able to create a safe and inclusive community for the residents, but that experience helped set me up for my first professional job in higher education. Eleven years later, I'm still in the field, thanks to Jess and her belief in me."
She likes what she does because she can help make a difference in students' lives. "People at SMSU are willing to help; we believe in customer service, and a student-centered focus is important here. We take that extra time to help other students, to be sure they are successful.
As for the award, she's "surprised and humbled."
President Connie J. Gores, in her letter of recommendation, described the SMSU nominee perfectly: "Through all of her success and selflessness, Jessica has never looked for accolades. In fact, this award was difficult for her to accept. She shared the sentiment that she does her job as best she can and seeing the success of her students is the best reward she could receive."
Related Articles