Christine Olson is Cowan Award Winner
Published Wednesday, April 18, 2018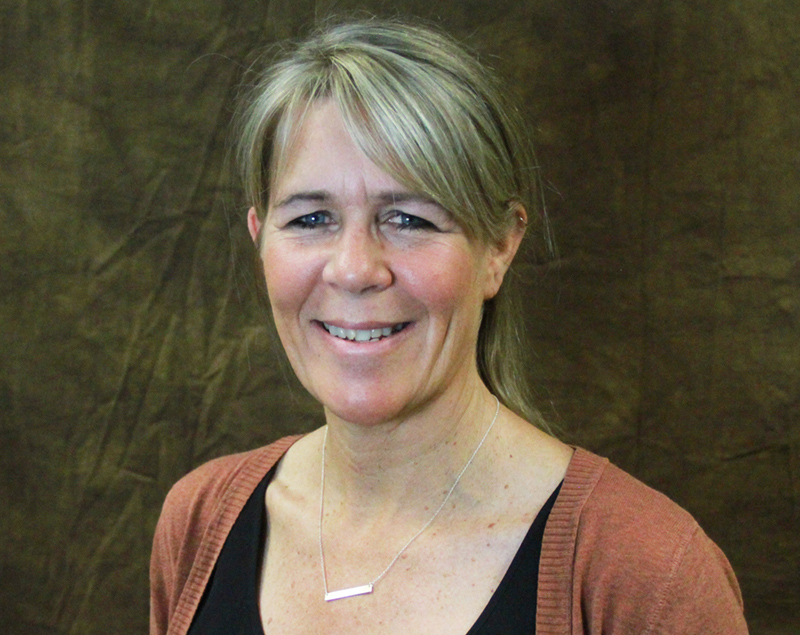 Christine Olson
Little did Christine Olson know that the seeds of her broader world view were planted as a child growing up in Brazil, and later at the family dinner table in New Jersey.
"Dad was raised on a dairy farm in Minnesota, went on to military service and was ultimately involved in world relief efforts through the Lutheran Church of America. Based in New York City, he was responsible for coordinating relief work throughout Latin America during the '70s, assisting with, for example, getting resources to Nicaragua after an earthquake and challenging human rights abuses that were occurring in Chile.  
"We would have Latin American human rights workers at our dinner table all the time, and it provided an early global perspective on life."
Olson, Professor of Applied Psychology, is the 2018 recipient of the Cathy Cowan Award, the most prestigious honor at SMSU. The award goes to a faculty or staff member who has made great contributions to SMSU and the region. It is named in honor of Catherine Cowan, the popular SMSU psychology professor who died in an auto accident on Dec. 22, 2001. Olson will be honored at Commencement on May 5.
Olson came to SMSU in 1999 and is responsible for helping weave civic engagement into the fabric of SMSU. Working with an interdisciplinary group of faculty active with service learning, she established the Center for Civic Engagement in 2003 and served as co-coordinator with her colleague, Scott Peterson, for most years up to 2016.
She earned her undergraduate degree in psychology from Bethany College, Kansas; her master's in counseling and higher education administration from Kansas State University; and her Ph.D. in counseling psychology from Arizona State University.
Shortly after she arrived, then-Provost Dr. Ray Lou initiated SMSU's  involvement in the American Democracy Project, a coalition of public universities committed to furthering the civic aims of higher education. "To be a member we had to identify a faculty coordinator and establish an advisory group, including input from all sectors of campus," she said.
She embraced the opportunity to coordinate efforts on campus to build a structure of support for volunteering and other forms of civic engagement. "At that time we strengthened our connection with Campus Compact staff, who encouraged us to assume a broad view of civic engagement — including voting and volunteering, but other forms as well, such as service-learning, sustained campus-community partnerships, community-based research, social entrepreneurship and so on," she said. "President (Connie J.) Gores serves on the Minnesota Campus Compact board and recognizes that having national affiliations like these helps us to get the word out about what we are doing here at SMSU,  learn about best practices, and access grant funding, training resources, etc."
Olson highlighted the new MustangsVolunteer resource as an example of benefiting from learning about what other campuses across the country are doing. "For example, while attending an ADP conference, Scott Peterson became aware of an online platform that could efficiently enable students to become more aware of service opportunities in the community. He took a lead role in working with United Way to, basically, set up a bridge between SMSU and their Get Connected database of service sites. Then the SMSU Student Senate approved use of student funds to make this resource available to campus members. It is a great example of a collaborative effort to address the problem of students wanting to learn more about service options in the community, and community sites wanting to get the word out to SMSU campus members about area needs."  
In 2016, President Gores initiated a year-long Civic Action Plan Work Group. Olson highlights this as another example of a collaborative effort to articulate a long-range plan related community and civic engagement. "The group identified what SMSU has accomplished over the past 10 years, such as making civic engagement part of our campus mission statement, incorporating it into our primary learning outcomes, and locating the Center of Civic and Community Engagement in a central, easily-accessible part of campus. It also gathered information about many current volunteer, service learning, community-based research, and social entrepreneurship efforts."
  Looking forward, the Civic Action Plan places a high value on continuing to develop sustained campus-community partnerships — working closely with community partners to identify area needs, develop a variety of community-based learning experiences, track progress and measure the economic value (among other benefits) for the region.
"I know I am not alone in believing that a key benefit of community-based learning is that we form relationships. Forming relationships with people from different walks, while working on a problem in a sustained way, is transformative for students. It equips them to go into whatever profession down the road with a better understanding that everyone brings unique talents to a given problem."
Olson has been a quiet leader on campus since arriving. She was the First Year Experience coordinator for six years, has been on the Strategic Planning Committee, Committee for Institutional Assessment, Liberal Arts Core Revision Task Force, Women's Studies Committee and Retention Committee, among others. She has also secured grant funding for VISTA members to assist with broadening service opportunities for SMSU students and building bridges with various groups and organizations in the region.
She initiated a Psychology Outreach Program to strengthen connections between university faculty, interns and area high schools; has been on the Lutheran Campus Ministry Board, the Youth Engagement Council Board and the Society for the Study of Local and Regional History Board.  Having a specific commitment to addressing global hunger, she was instrumental in bringing Sen. George McGovern to campus to talk about global hunger alleviation. She also volunteers locally at Ruby's Pantry.
What's kept her at SMSU? "I came here originally because I liked the small classroom size where we can really get to know students well, and I wanted to learn more about a rural setting, it was new to me" she said. "I've found that the faculty, staff and students at SMSU have an intrinsic inclination for problem-solving; you don't have to light a fire, you don't have to be in cheerleading mode to get things going. People here come together to address challenges and creatively move forward. I love that. They have a constructive problem-solving way about them."
She loves "anything outdoors" and is especially close with her nieces and nephews. "Most of my family members live in New Mexico or Colorado, so if I am not here in Marshall, I'm there," she said. She also enjoys baking, and learning to play the guitar.
As for the Cowan Award, "It's an incredible honor, especially considering the contributions made by Cathy Cowan and the long list of others who have received the award.  I'm grateful to be in that company. It's important to me, also, that people realize that these civic engagement initiatives have really been a shared effort all along and have involved the work of so many others."
Related Articles